Is propane fuel in a fireplace worth the price? Does it save money? Or you should avoid it? Well, we are here to provide you with the answers to all your questions regarding how much propane does a fireplace use…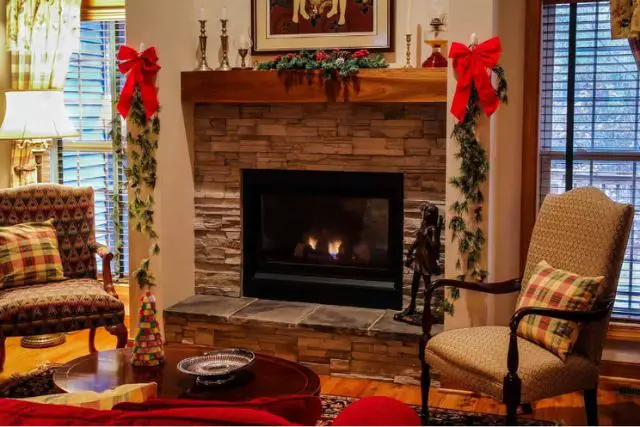 If you are interested in room heating or other gas-powered appliances, propane is one of the most affordable options. You can use propane for your gas fireplaces too, but this means using more propane whenever it is in use and adding more cost to your monthly bill.
So, how much propane does your fireplace use, and how to get the best result out of it?
Well, for your convenience, we have included all the necessary information in this article as you see below…
What is a propane gas fireplace & its types
How much propane does a gas fireplace use
How to make the most efficient use of your gas fireplace
Its benefits over other fireplaces
Let's start…
What Is A Propane Gas Fireplace?
A propane gas fireplace is a modern fireplace type that is used to replace old, drafty, masonry fireplaces. It uses propane gas which makes it easily controllable and easier to operate and maintain. Using this, you also have the option to choose from two categories.  
Propane Gas Fireplace Categories
You have two types of gas fireplaces available to buy:
1. Vented Gas Fireplace
The vented gas fireplaces are like the wood-burning ones. They also require a vent to remove the fumes and other harmful elements. So, vented gas fireplaces are highly costly if there's no existing chimney in your house and needs a new one to install.
2. Ventless Gas Fireplace
These are designed to use gas more effectively. They don't require any vent system as there's just a little amount of fume created in the process.
The ventless gas fireplaces are more efficient as all the heat emits to the room and not the vent which heats up your room much faster. They are also less costly but you have to keep in mind they are banned in some particular places.
How Much Propane Does a Fireplace Use? Check 3 Things to Know
To inspect how much propane your fireplace uses, you need to keep track of some conditions. These are-
1. The Size of Your Fireplace
The usage of propane by your fireplace depends a lot on its size. The bigger size, the more heat it can emit and burn more propane. All the latest fireplace's propane usage is rated by using the term 'BTU', which tells you the heat-producing, capability of your fireplace with the maximum fuel.
The higher the BTU rate your fireplace has, the higher fuel it burns to put out maximum heat. You can know the BTU rate of your fireplace by calculating or by asking any propane repair technician.
Though the burn rate of fireplaces varies from each other, on average every 100,000 BTU fireplace, requires about a gallon of propane per hour.
2. The Outside Environment
How much propane your fireplace use depends a lot on the outside temperature. The lower the temperature, the more heat your house requires. And to do so, your fireplace needs more fuel to keep up with.
3. The Home Setting
A gas fireplace is very easy to monitor and control according to your requirement. You can control the amount of heat by just using a switch.
So, if the fireplace is being used just to enjoy some flame without much heat, you can limit the gas supply and lower the propane usage.
On the contrary, if you want to use the fireplace as a central heating system, you need to provide a maximum gas supply for maximum heat production, which will gradually burn more propane.
As you know the propane usage of your fireplace now, let's go forward to learn some methods to get the best result out of it.
How To Make the Most Efficient Use of Your Gas Fireplace
A gas fireplace requires a huge amount of propane while used as your central heating system. But there are some ways you can minimize the usage and cut down a magnificent amount of your bill.
You need to consider the outside weather condition of your household. If it's not that cold, you can easily adjust your fireplace accordingly.
A propane gas fireplace has the feature of controlling its gas supply. So by adjusting it, you can lower the propane usage for your fireplace.
Another great way to keep your fireplace more efficient is by cleaning it up regularly. It eradicates any chance of wear and tears as well as any damage to the tank.
This will also make sure the fireplace is free from any dust, fume, or clogs that can hamper the fireplace's workability.
The easiest way to boost your fireplace's efficiency is to install glass doors over it. By doing so, your fireplace can turn into a powerhouse heater like a wood stove resulting in producing more heat using less fuel.
Again, if you are using a vented gas fireplace, you need to check the venting system regularly. The vent can be a major cause of heat loss if there's any leak in it.
To make up for that, your fireplace will need to burn more gas to produce more heat. In that case, you can install a liner to trap those heat without sacrificing air circulation. It will maximize the heat output experience for every gallon of your propane use.
Benefits of Gas Fireplace Over Other Fireplaces
There are 3 types of fireplaces available to use: Wood-Burning Fireplaces, Electric Fireplace, and Gas Fireplace. Now let's know what benefits you will enjoy having a gas fireplace…
Gas Fireplace vs Wood-Burning Fireplace
Wood-burning fireplaces are great to use for ambiance, but they are not as efficient as gas fireplaces. There are no ashes, smoky smells, or dirty chimneys to clean while using a gas fireplace. 
It is very easy to control. You can just turn it on, adjust accordingly and turn it off using a simple remote control panel.
There are also a thermostat, oxygen level meter, and carbon monoxide meter available in a Gas fireplace, which will monitor the levels in your room and auto-control the fireplace accordingly. 
Moreover, you will get 75 to 99% of the energy used from your burnt gas while the wood-burning fireplace provides only 10 to 35% efficiency.
Gas Fireplace vs Electric Fireplace
A Fireplace is quite a luxurious appliance to have, reflecting on your house's overall look. A gas fireplace looks more realistic as it produces real flame to watch and feel.
While an electric fireplace uses an artificial image to show which might not be that convincing depending on the quality.
Although you get more efficiency using an electric fireplace, it is more efficient on the surface level and won't warm the room as well as a gas fireplace.
You can get extra heat even when you turn down the gas fireplace's thermostat which isn't a very likely situation with an electric fireplace.
Another benefit of a gas fireplace over an electric fireplace is the operating cost. Gas is generally cheaper to buy than electricity. If you live in a colder area, it is much better to use a gas fireplace than an electric one.
Now, that you have learned about the gas fireplace and its benefits let's learn about its usage statistics.
How Big of a Propane Tank Do I Need for a Fireplace?
Propane tanks are available in various sizes. You can select one that fits your needs. Below are a few sizes and specifications of propane tanks:
120-Gallon Propane Tank Size:
An average 120-gallon tank is primarily used to power hot water heaters, fireplaces, or space heaters in homes.
Specifications:
54.5" in height and 30" in diameter
Stores 96 gallons of propane.
250-gallon propane tank size:
It is sufficient for heating systems for modest-sized homes and can support appliances such as clothes dryers, fireplaces, and stoves.
Specifications:
7.10" in height and 30" in diameter
Stores 200 gallons of propane
325-gallon propane tank size:
Propane tanks of up to 325 gallons are the perfect fuel source for backup generators or homes that use less than 500 gallons of propane a year.
Specifications:
10″ in height and 30″ in diameter
Stores 260 gallons of propane
500-gallon propane tank size:
A 500-gallon tank is commonly used to power central heating and small commercial projects.
Specifications:
9.11″ in height and 37.5″ in diameter
Stores 400 gallons of propane
Are propane fireplaces expensive to run?
A propane gas fireplace has a certain BTU rate which indicates the maximum capability of the fireplace while turned on. On average most of them have 100,000 BTU.
In propane, there are approximately 91,500 BTU in a gallon while it costs about $3/gallon. Based on those numbers, a large gas fireplace would require about 40,000 BTU/hour to operate and would cost about $0.40/hour for natural gas and about $1.31/hour for propane.
However as the inserts provide most of the heat back into your home, your heating system does not have to work as hard which can even offset the cost of normally heating your home. 
Now, these prices are subject to the price of gas you are currently paying. So check your bill and find out what your current price is, and use the easy calculation to determine your costs. 
What's the Most Efficient Gas Fireplace?
In the market, you will find several gas fireplace brands. You need to choose one based on your needs.
Below we have mentioned a few of the top gas fireplaces with their pros and cons that will enable you to choose the best one for your home.
Empire Comfort Systems Premium 36″ Direct-Vent Millivolt Control Fireplace
Pros
Designed in a modern white finish, with ceramic fiber brick detail and tempered glass as aesthetic features.
Easy to adjust both the heating temperature and the blower's speed
Vented top and rear systems are included.
Cons
The door set and the barrier frame are sold separately.
Napoleon GX36NTR Ascent 35 Direct Vent Gas Fireplace
Pros
It provides effective heating, thanks to a high-output 26,000 BTU and ceramic glass for radiative heat.
Its traditional look is enhanced by the Phazer log set and charcoal embers.
It has a 77% efficiency rating and can be used with propane or natural gas.
Cons
It has just a top ventilation system.
Empire Tahoe Deluxe 36″ Direct-Vent NG Millivolt Fireplace
Pros
The high-efficiency rate of 83% ensures efficient heating.
This product comes with a top venting system, making installation easy.
There are great aesthetic features such as black louvers and a brick-like fiber lining. Ceramic fiber logs are also present.
Cons
The screen for the barrier is sold separately.
Superior Direct Vent Gas Fireplace
Pros
The front is made of ceramic glass in order to maximize radiant heating.
Using the remote control, you can adjust flame performance and heat output.
This fireplace is designed with a built-in blower to maximize heat distribution.
Cons
There is only a 35-inch fireplace.
FAQ
How much propane does a fireplace use per hour?
Typically, a propane fireplace uses one gallon of propane for every 100,000 BTUs in use. Therefore, if you have a propane fireplace that works at 50,000 BTUs, you'll use one gallon of propane every two hours that it uses.
Is it ok to leave a high-efficiency gas fireplace on overnight?
If you leave a gas fireplace on overnight, it may pose a health risk to everyone in the house, and you may also incur increased costs. Gas fireplaces can also produce poisonous gases which may end up inside your house, particularly at night when all doors and windows are closed. Thus, it is best not to leave the fireplace running overnight.
Summary
Hopefully, now you know the answer to the question of how much propane a fireplace uses depends totally on your needs and usage.
Follow our guidelines mentioned above on a regular basis for optimal efficiency.    
And, if you think any information we have missed or any additions we should have included, please let us know in the comment section below.