You will encounter several Comfortbilt pellet stove problems over time, including: 
Excessive smoke during startup
Chirping noise coming out of the auger area
Burn pot is backing up with pellets
The stove won't turn on
And so on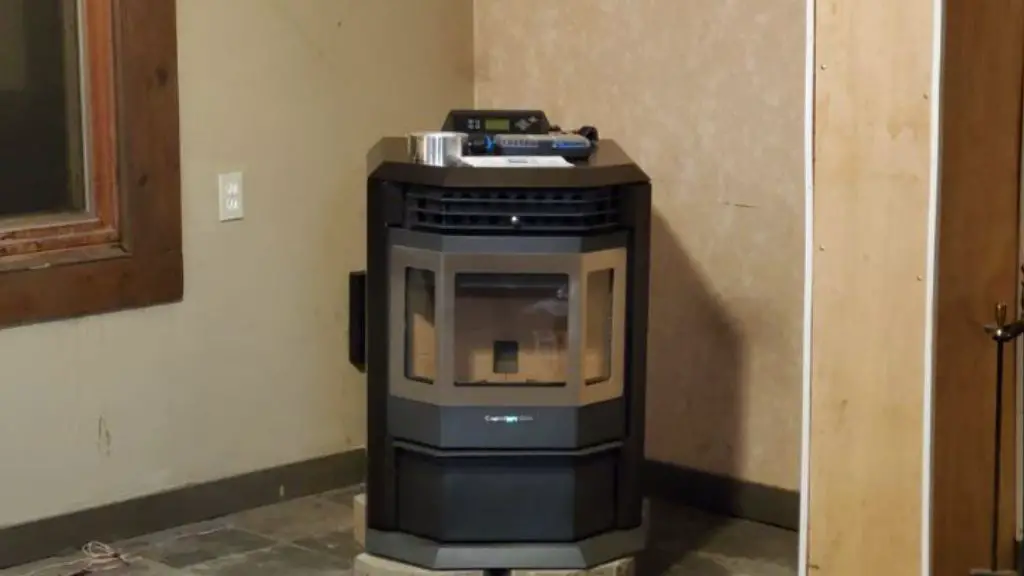 Insufficient airflow, dirty air chambers, and other defects are responsible for those issues. We compiled this troubleshooting guide to break down what causes those stove problems.
So, keep reading till the end to explore the solutions to those pellet stove issues. 
Comfortbilt Pellet Stove Problems [5 Easy Solutions]
This chapter will let you know the common pellet stove issues and how you can solve them. 
1. Stove Won't Turn On
Your pellet stove won't turn on or ignite due to power supply issues. A blown fuse is also responsible for this stove problem.
Therefore, a damaged power cable, gray ribbon data cable, or main harness wireline can also prevent your stove from turning on. Lastly, a defective control panel is responsible for the stove issue. 
Solution:
Firstly, check the outlet you use to plug the stove. If it is well, ensure you turn the on/off rocker switch to the On position. 
Secondly, inspect the fuse in the back of the power switch. If it gets blown out, replace it with a new one. 
Don't forget to check the power cable, gray ribbon data cable, and harness wireline. If they get loosened, connect all of the cables securely. And finally, replace the control panel if needed. 
2. Excessive Smoke During Startup
Excessive smoke comes out of your pellet stove during startup due to the following reasons:
A weak or misaligned igniter
Insufficient airflow
Solution:
Ensure you start up the pellet stove in heat level 3 if you turn the stove on in Manual mode. It will allow sufficient airflow for proper combustion.
Secondly, check the igniter position of your Comfortbilt Pellet Stove. You should correct the igniter position if it gets misaligned.
If the interior air pathways and channels get dirty, it causes airflow issues. Use an ash vacuum to clean the interior chamber once a week to keep it dirt-free. 
Here is an igniter troubleshooting tutorial for you that will be helpful for you. 
3. Chirping Noise Coming From Auger Area
Your ComfortBilt Pellet Stove will make a humming or squeaking noise if:
Dirt, sawdust, or moisture may build up in the auger housing or around the fighting of the auger bit.
Foreign objects like nails or screws may get mixed in with the pellets 
One of the two bearings may get compromised
Solution:
You can use a rubber mallet to knock some of the dirt & debris deposits if the buildup is not too severe.
Just grab the rubber mallet and tap on the cylindrical auger housing on the top and bottom of your stove. 
The pellet stove will also make a chirping noise if dirt builds up at the top of the chute. Regarding this, run a long rod up the pellet chute to loosen the build-up from the chute. 
It may require you to remove the auger bit from the stove if there is severe buildup. You can hire a professional, in this case, to pull out the auger bit for thorough cleaning. 
4. Burn Pot Is Backing Up With Pellets
Improper fuel-to-air ratio caused by the airflow restriction can be the main culprit behind the burn pot backup issues.
Therefore, a lack of air pressure, a clogged burn pot, and an improper auger feed rate are also responsible for this stove issue. 
Solution:
The backing-up issue will happen due to an airflow restriction. And the airflow problem will occur if dirt or dust builds up in the rear airflow chambers.
Clean the ash or dust buildup from the rear airflow chamber using an ash vacuum. 
On the other hand, you should adjust the auger feeding rates if you encounter the backing-up issue since installation. Lastly, ensure you seal the air chamber area properly. 
5. Stove Gives Over-temp/Overheat Alarm and Shut Down
Your pellet stove will give an overheating of over-temp alarm if: 
The room blower fails to move enough hot air out of your stove.
Limited Airflow
Improper fuel-to-air ratio
Solution:
Make sure the room blower functions properly. Flick the squirrel-cage style fan manually if it is not spinning freely.
Unclog the rear airflow chambers to draw sufficient air
Adjust the auger feeding rates and exhaust voltages
FAQ
What is the life expectancy of a pellet stove?
Generally, a pellet stove will last more than 10 years under normal use. However, you can expect more longevity if you maintain the stove properly. 
Why does my pellet stove keep shutting down?
Your pellet stove will keep shutting down due to these reasons:
A clogged auger tube
Improper air adjustment
A dirty unit
The igniter gets defective
Why does the glass on my pellet stove get dirty so fast?
Insufficient fuel and air supply can cause inconsistent fires that may produce more by-products like creosote. Consequently, the glass on your pellet stove will get dirty quickly. 
How often should a pellet stove be serviced?
You should clean and inspect your pellet stove once a week. You can perform the inspection workflow by yourself or by hiring a professional. 
Conclusion
Your Comfortbuilt pellet stove will start malfunctioning over time- just like other appliances. However, you can easily avoid those issues if you maintain the stove properly. 
If you encounter any Comfortbuilt pellet stove problems, follow the troubleshooting steps we have mentioned above. Otherwise, you should call customer service to fix the pellet stove issues.