How to hide a fireplace that's unused? There are many ideas available for updating an old fireplace or simply hiding it.
Placing your sofa, bookshelf, or TV before your unused fireplace is the easiest way to hide your fireplace. Plus inserting an ornamental screen or photograph or painted plywood into the opening of the fireplace is the best idea to keep your ugly fireplace from your sight.
And all these creative ideas won't cost you much or not a single penny. So, go on reading to know all about these brilliant ideas and learn how to decorate a fireplace or hide it. And make your ugly fireplace look awesome.
How To Hide a Fireplace [9 Unique Ideas]
From so many for hiding a fireplace, we have picked all the great options to solve your struggle that is followed:
1. Place The Existing Sofa Before the Fireplace
The very first and most simple but excellent hiding fireplace idea that won't cost you a single penny is to drag your sofa and put it before your fireplace. That's it. Isn't it a great idea to hide the fireplace?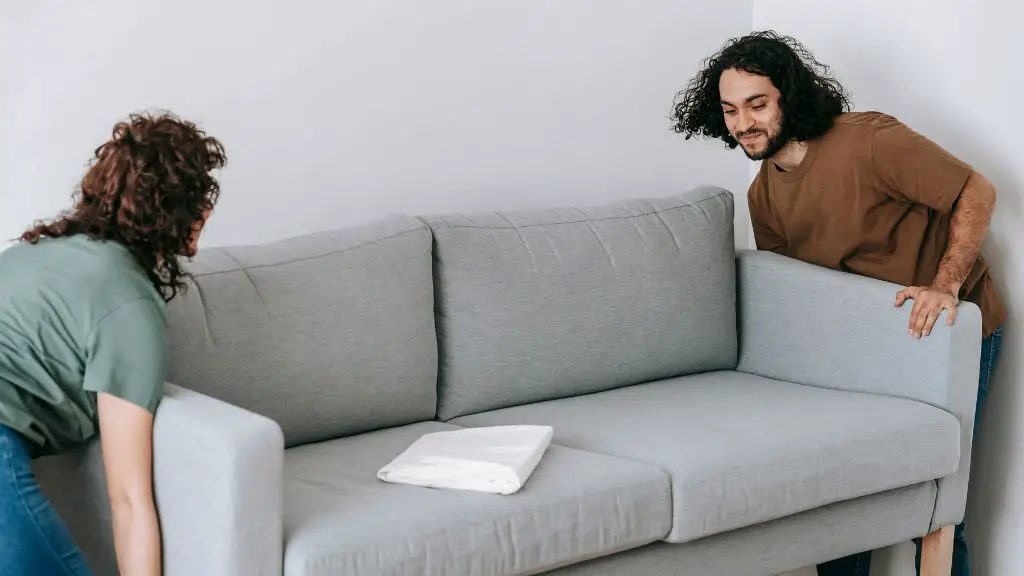 I hope you will agree with me and try the option to solve your problem and make the fireplace totally disappear. Right? Then you can also place a lovely painted screen behind the sofa to hide the fireplace and have a gorgeous background. 
2. Put Your TV Before The Fireplace
The next awesome idea for a non-working fireplace is to keep your flat-screen TV in front of the fireplace to hide it. To make the job done, bring the TV stand first and place it before the fireplace and wall. There you may face a challenge between the height of the TV stand and the fireplace.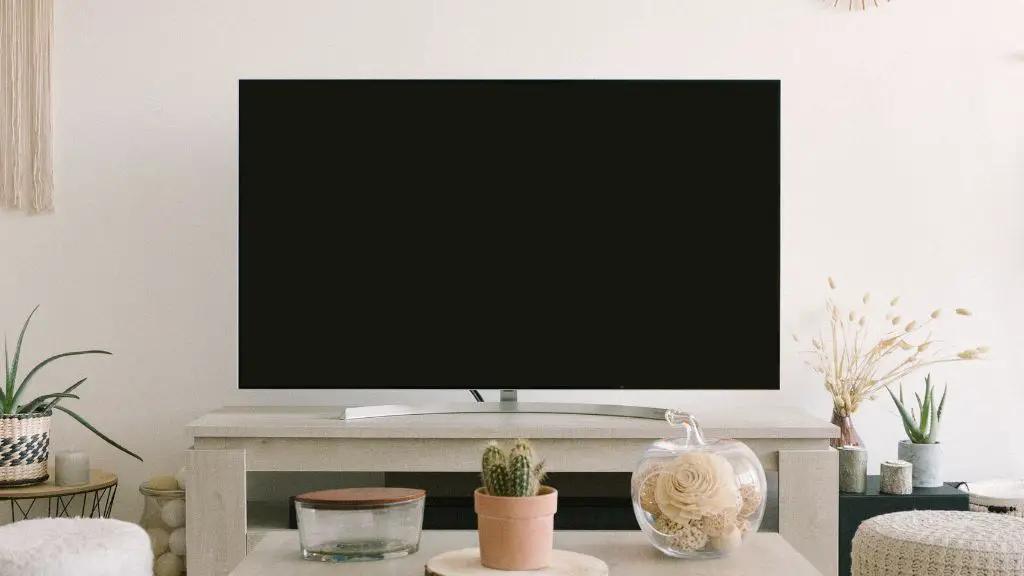 So, first, match the TV stand with the fireplace height and then put the TV on the table so that it hides the fireplace completely behind it.
You can also use the tea or coffee table to keep the TV over it as it's only for summer. Because, at the very beginning of winter, you will again run the fireplace.
Here you can also stick a decorative screen behind the TV  stand that will also hide your fireplace and give it an awesome look. You can also hide your DVD player to enhance the ambiance of your home decor.
3. Cover the Fireplace with a Bookshelf
You might have a bookshelf at your home. Right? Here covering the fireplace with a bookshelf is a great idea. Simply, drag the bookshelf carefully and place it before the fireplace.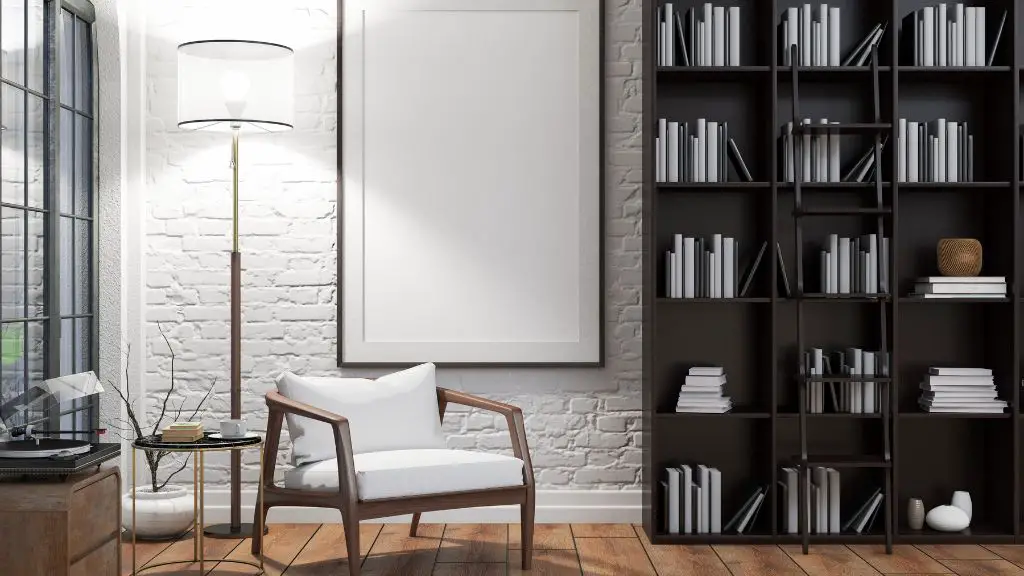 You don't need to do anything more. But, covering the fireplace opening with a screen or wallpaper before placing the bookshelf will keep your fireplace inside safe from insects making a nest. Now, you can feel the benefits of having a fireplace with bookshelf are so many. Isn't it?
4. Cover The Brick Fireplace Opening with Painted Plywood
To cover the fireplace opening with painted or plane plywood is another excellent idea. Here you need to take down the mantle and then place the plywood with glue.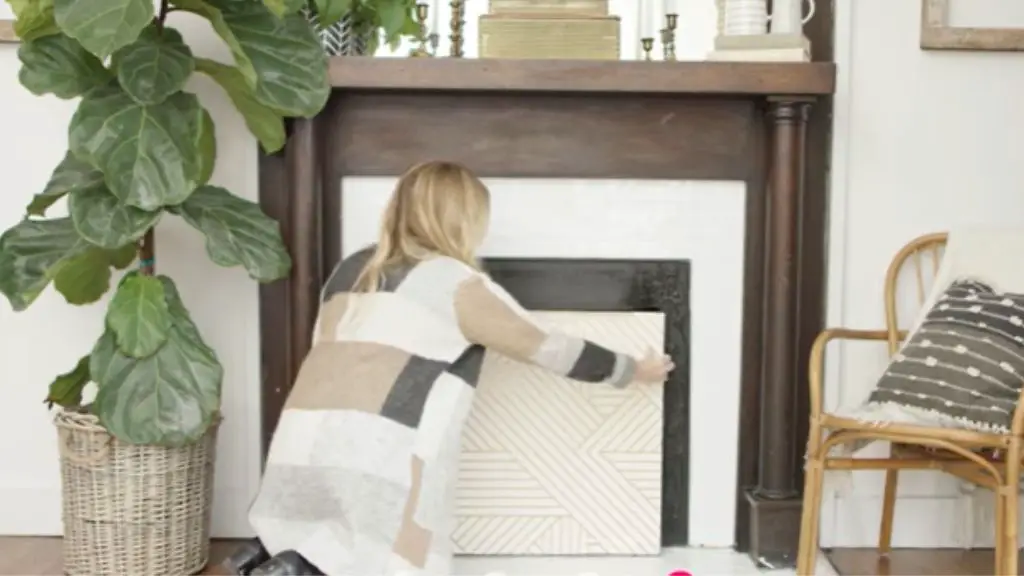 But, before placing, you have to reshape the plywood to match the fireplace opening. Here, you can watch the video to make it happen.
5. Insert an Ornamental Screen or Photograph
If you don't like to keep any kind of furniture like your sofa, bookshelf, or TV stand, you can simply hide your fireplace opening by putting on a decorative screen.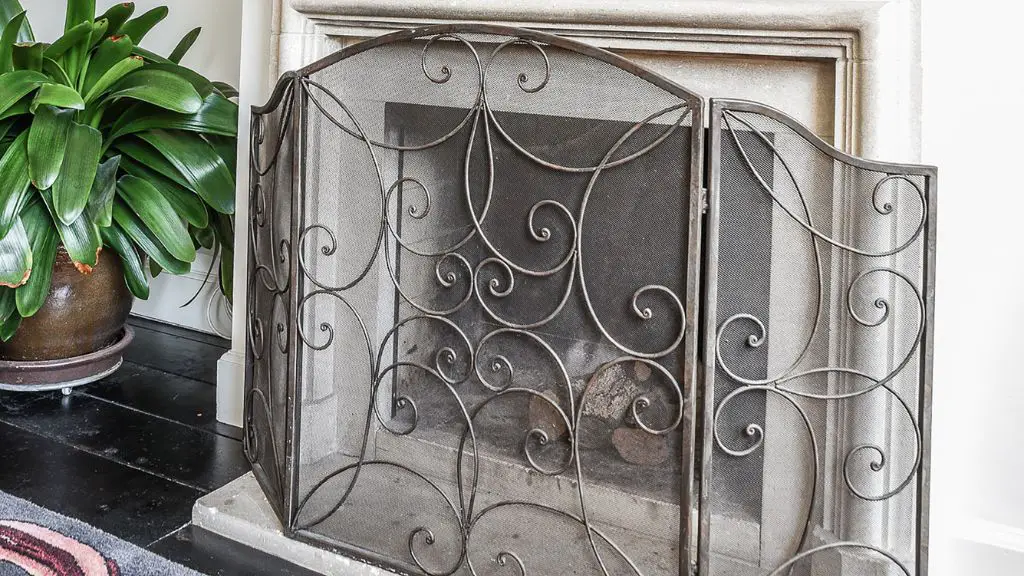 Or, you can put your favorite photo printing on a canvas size that will cover the fireplace opening. 
You can also have a painting photo matching the fireplace opening size and make sure it might cover it. It would be a great as a well cheaper option. Besides, it will enhance the beauty of your room. 
One more, you can also install a fireplace screen that will hide your fireplace opening and obviously enhance the beauty of your room.
6. Keep Books & Reading Materials
Can't you make your fireplace the mini home library that would be unique? Yeah, you can do that and turn your nonworking fireplace into a small bookcase. Thus you can display your favorite books and reading materials.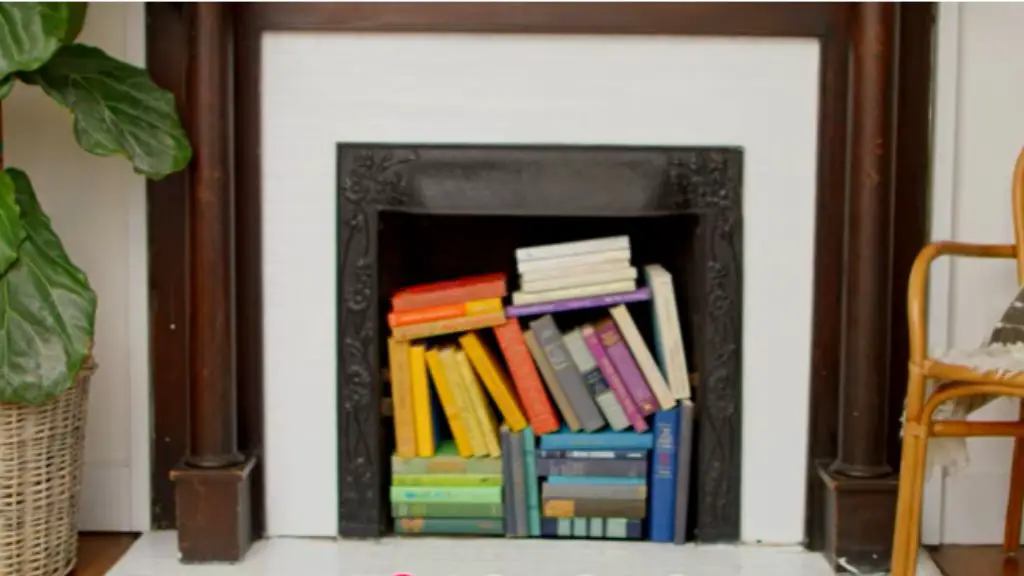 Here you can install two or three rows and make shelves to make the display outstanding. 
Don't forget to shut down the fireplace switch, valves, or circuit because it's related to your safety issue before keeping your desired books and reading materials. 
7. Decorate with Potted Plants
Who doesn't love the greenery? Maybe nobody. So, you may love to see some indoor plants with sprawling leaves and lush to add vibrant color to your room. 
Here you can take the opportunity. You can fill your fireplace surround with some flowering or leafy plants coming with decorative Pots.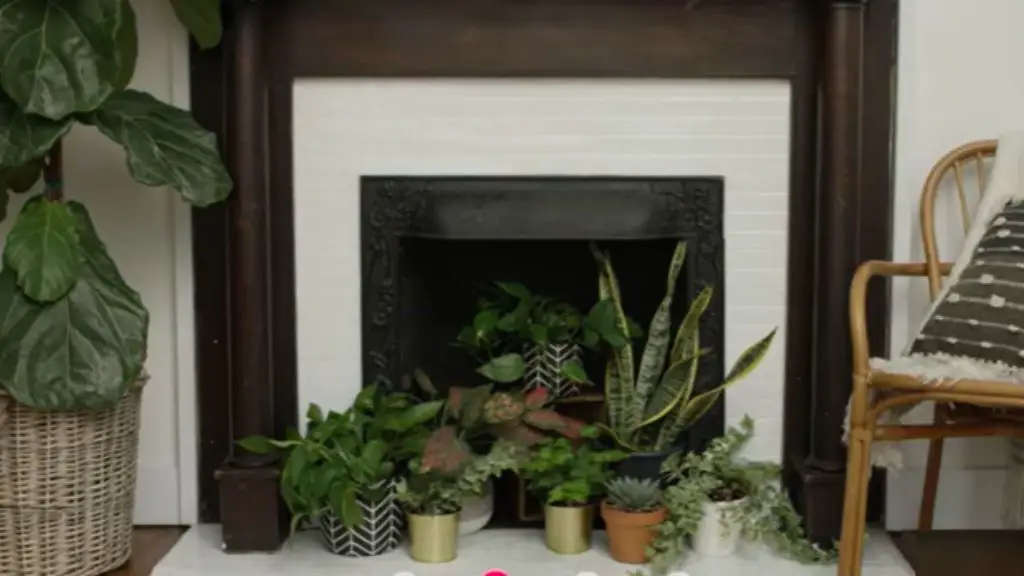 Keeping colored and leafy plants with designed or painted pots in the fireplace will dramatically enhance the beauty of your room. Before decorating the fireplace with plants, make sure you have cleaned the unused wood-burning fireplace perfectly.
And remember, these ideas for a non-working fireplace may cost you little energy sometimes but you will definitely enjoy the job. 
You need to take care of the plants and keep them in the sunlight weekly as the plants might not get the sunlight from the fireplace. 
8. Display Candles Before Fireplace
Shining your unused fireplace with miniature candlesticks is another awesome idea to hide it. Get a set of candelabra that will match your fireplace.
But, remember getting different sizes of candles will be tricky. Various sizes of candles will make the display pretty charming when you light them.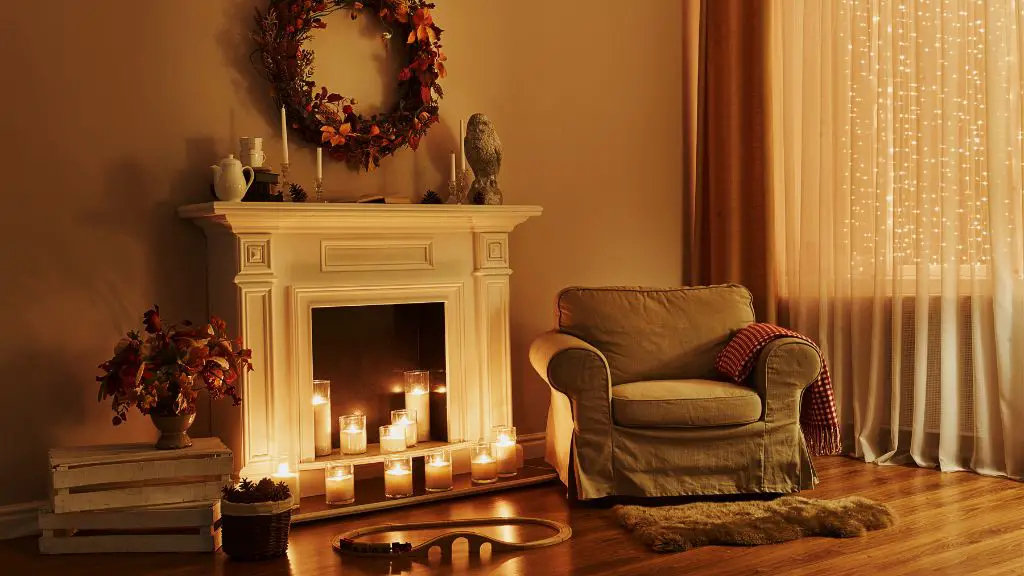 Then display the sets inside the fireplace. You can use candle holders to put the candles and make them steady. 
Sometimes, you can light the candles at night to enjoy an enchanting glow and view. It will also give you sober warmth also. So, why are you late to apply such a pretty trick to hide your unused fireplace?
9. Store the Fireplace With Firewood
You can make your unused fireplace as the firewood store. Get a few pieces of pre-chopped firewoods and keep them inside the fireplace facing the polished cut end outward.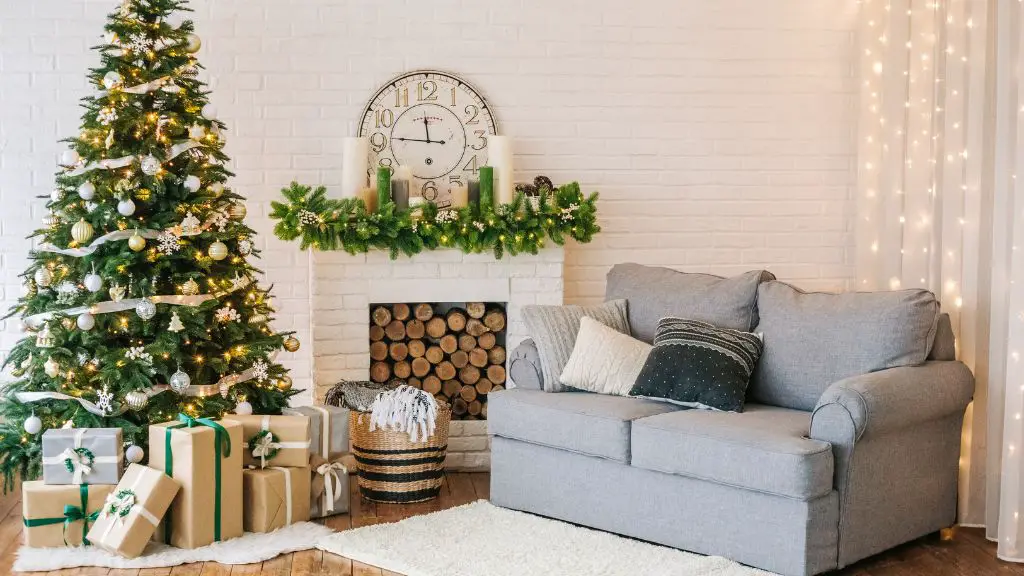 The idea will bring you two benefits. It will decorate your empty fireplace and hide the ugliness of the fireplace. Also, it will bring you the firewood storage solution.
How To Cover A Fireplace Hole or Opening?
There are a few things you can use to cover a fireplace opening or hole Here are some ideas:
1. Chimney balloon
2. Fabric draft blocker
3. Glassdoor
4. Customized cover
5. Ornamental woods like black gum wood
A Few Non-Working Fireplace Decor Ideas
A fireplace is a focal point of your dining space or the living area. So, it should be highlighted and eye-catchy. You even can bring up large changes to its decor by applying some creative ideas. Like:
You can use some candles on the upper side or by side of the fireplace in order to light the area.
Place a mirror on the upper back wall of the fireplace. It will make feel your living larger.
Hang some beautiful art on the wall and use creativity to place it.
To bring an elegant vibe to the fireplace looking itself, you can paint white color over it.
Place some small greenery and a flower tub on the fireplace.
You may make one or more shelves on the back wall of the fireplace. There you can decorate with pretty showcases or books. 
It will also be best to hang a large wall clock on the wall.
Apart from the above ideas, there are so many ideas to decorate your unused fireplace. To discover a few more insane decor ideas, you can watch the video:
How To Hide A Fireplace With Furniture
If you are hassling with your non-working fireplace, you can turn up with amazing decoration prices.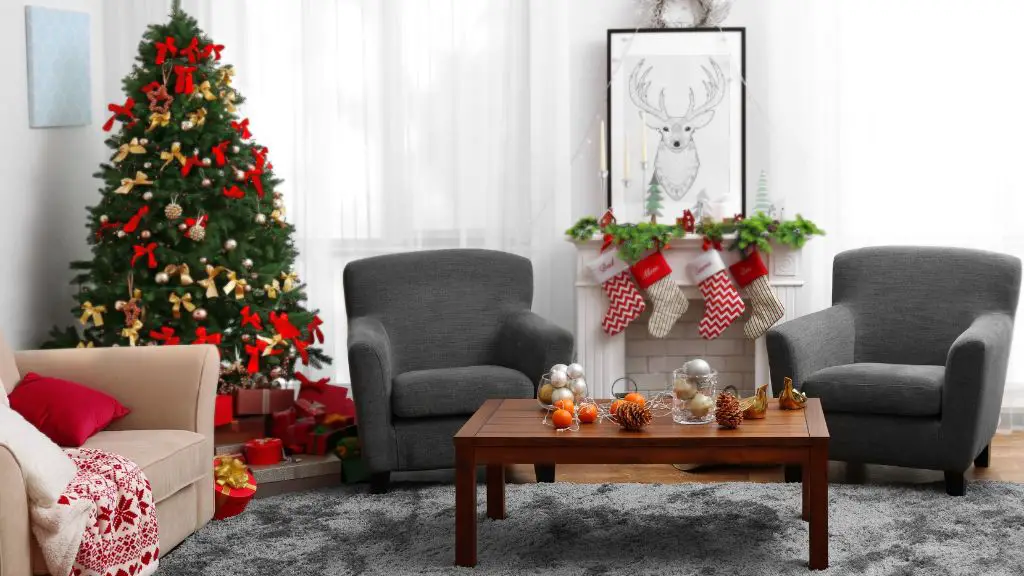 Sometimes, hiding with furniture will be the best option and make beautiful use of the space. Have a look at some top ideas to hide the fireplace using furniture:
You can turn your fireplace into an amazing bookcase and can place books there.
Decor with artificial flowers tubs inside of the fireplace.
Put your sofa or dining set in front of the fireplace and it will easily the unit.
A common idea is placing a television over the fireplace. It will help to lessen the focus of your big fireplace,
You fill the fireplace with beautiful candles.
Put the TV cabinet or side table in front of the fireplace and decorate with pretty showcases. 
How To Convert Fireplace Into Storage
Sometimes, our fireplace stops functioning properly or we don't want to use it anymore. Thus, storage in a proper way is must needed. You can easily convert your fireplace into storage. 
At first, you have to close or remove the gas line.
Remove all the inside and existing pipes and wires.
Now remove all the woods and logs inside from the fireplace.
Clean out the entire appliance properly.
Then, you can decorate it with alternative ideas or hide it with furniture if you want.
If you want to hide it completely, you can make a larger box and insert it into the fireplace. 
Or, you can turn it into your bookshelf and put your books there. 
FAQ:
Can I cover a fireplace?
Yes, you can easily cover a fireplace using many methods. The best thing you can do is use wood. Take an unfinished sheet of wood and place it in front of the fireplace. The unfinished condition will give the wood a rustic vibe. It will look aesthetic and, at the same time, your fireplace will remain in a good condition as well. 
What can I use instead of a fireplace?
Here are some of the most popular decorative alternatives to a traditional fireplace,
1. Electric fireplace
2. Faux fire logs
3. LED fireplace
4. Decorative fireplace mantel
5. Pellet-burning appliance
How do I keep cold air from coming into my fireplace?
There are many ways you can prevent cold air from coming into your fireplace. But the best method is to use fireplace doors. If you install a quality fireplace door, it will keep cold air from entering the fireplace. So, in case you are not using your fireplace for a few days or months, you can set up a wood door.
Why is cold air coming out of my fireplace?
A metal flap in your chimney is supposed to block cold air from coming in. This metal flap, also known as a damper, stops warm air from escaping as well. However, if there is still cold air even when the damper is still there, the problem may be in the condition of the damper. Check if the damper is cracked, degraded, worn, or warped. The best option for you, in this case, is to replace the damper.
Does a fireplace make your house colder?
Surprisingly, yes. Using a fireplace can make other rooms of your house colder. The reason is that there is heat loss constantly going on. But when you are in front of the fireplace, the fire produces enough radiant heat to keep you warm. On the other hand, it feels cold in the other room due to the loss of hot air.
How do I stop my fireplace Backdraft?
The best way to
stop your fireplace backdraft
is to provide your fireplace with an alternative air source. To do this, what you can do is just open the nearest window to your fireplace to increase the airflow in your room. As the room will be exposed to more air, less will be taken through the chimney.
Final Words
Now you know so many ideas about how to hide a fireplace and make the useless fireplace a stylistic one. Am I right?
So, pick any of the above unique but simple hiding fireplace ideas which impressed you most. And apply that one to cover up your non-working brick or stone fireplace and have the solution.