How to update a 1970s stone fireplace? Is it possible to remodel the old fireplace?
The simple answer is yes. You can easily turn it into an eye-catching modern fireplace reading our article. Today we will tell you how to update your stone fireplace from the 1950s to the 1980s in 5 simple steps. and also 70's brick fireplace. 
So, let's start…
How to Update A 1970s Stone Fireplace [5 Easy Methods]
Here are 5 methods to upgrade your 1950s- 1980s stone fireplace:
Method 1: Give the Stone White Paint
Giving white paint to the old stone fireplace is a simple way to gain a uniform and crisp look. First clean all the stones and the gap between the stones. Then simply paint and upgrade the look.
Method 2: Add Concrete
Concrete is a cheap but efficient way to change the appearance of your old 1970's white stone fireplace.
You can use white concrete with stone, fill the gap, and bring back the aesthetics of the firebox. There are several reasons behind choosing concrete, including:
Concrete is easier to apply

You can color the concrete to add life to the firebox

Always offer a crisp and beautiful finish
Method 3: Give a Rustic Look to your Fireplace by Adding a Wooden Panel
Covering the surrounding of an old fireplace with a wooden panel is also an effective way to add a feel to the firebox. The best part of using wood paneling is- you can print different finishes on it to get the look you want.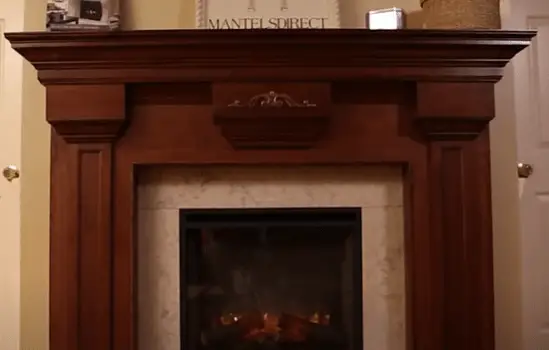 For example, mahogany finish or crisp white finish is excellent to gain a rustic feel. 
Method 4: Try Out Stone Veneer
Stone veneers are a great way to update the traditional stone fireplace.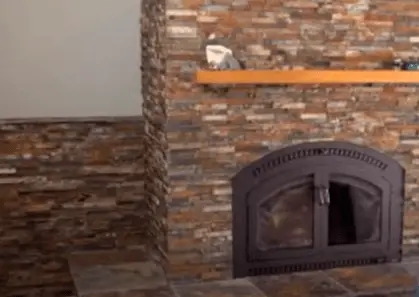 But you have to get high-quality stone veneers. The good side of stone veneer is, unlike conventional stones, this type of stone is light and affordable as well. Therefore, stone veneers are effortless to install. 
Method 5: Give a Vivid Look to your Fireplace by Using Colorful Tiles
Don't forget the tile as a material for updating the old 1970s fireplace. You can find the best quality colorful tiles to bring back life to your conventional firebox.
The key behind applying tiles is effortless cleaning. On top of that, it adds a fashion to the fireplace. 
How to Update a 1970s Brick Fireplace in 4 Steps
A brick fireplace is far away in style now. And a 70's brick firebox is just an eyesore and damages the entire home decor. You need to put in a lot of effort if you want to update it. 
Here's the workflow involved in upgrading an old 70's brick fireplace:
Step 1: Remove the Brick
Break down the bricks with a hammer and remove them out first. 
Step 2: Add Two Wood Side Cabinets
Once you remove the brick, it's time to add wood side cabinets. Later, you can also add two shelves above the cabinet to add a distinct look to the fireplace. 
Step 3: Replace the Old Fireplace Insert
Now, it's time to get a new fireplace insert which can be an electric or gas insert. Then insert the new one changing the old one.. 
Step 4: Add a Mantel and Set a TV up to It
Have a decorative fireplace mantel and place it to improve the overall look and set a tv above it to enjoy the winter night. 
FAQ:
How to cover a stone fireplace?
Consider the following changes to cover a stone fireplace:
Stone paint is the best idea. So, you may paint the stone

with chalk paint.

Put together a new mantel

.

Install a new gas or electric fireplace insert

.

Remodel the surrounding areas of the hearth with tile

.
How do you modernize an old stone fireplace?
You can modernize an old stone fireplace by stone painting, changing the tile, and putting together a new mantel and gas fireplace insert. 
How can I update my old fireplace?
Follow the below steps to update your old fireplace:
Thoroughly clean it

Paint the fireplace. Natural stone paint is best

because a painted stone fireplace with natural foliage looks soothing.

Add a panel above the mantel

Use white finish

Retile it

Change the old fireplace mantel piece with a new one

Display decorative items on the mantel
Can you resurface a stone fireplace?
Yes, you can. In this case, try out slate, granite, marble, and quartz, to resurface your old fireplace. 
How much does it cost to reface a fireplace with stone?
On average, you need to spend around $2250 to reface a fireplace with stone.
How much does it cost to redo the fireplace?
The price range you need to cost to redo the fireplace is $390-$2000.
Can I update my brick fireplace by painting?
Yes, you can change the entire look of your living room or dining room, or kitchen with a can of paint by updating the wall and washing the fireplace brickwork color to coordinate. But it is a difficult process and has some safety concerns. Yet, if you can ensure proper safety you should go for it. The process of painting a brick fireplace goes by the steps below:
Step 1: Clean the brick.
Step 2: Check for any damage and fix it
Step 3: Be sure to protect the wall, mantel, floor, etc.
Step 4: Start by applying a base coat to the bricks.
Step 5: Use a sponge template to paint the bricks.
Step 6: Allow the paint to dry
How do you modernize a red brick fireplace?
A brick fireplace is a classic in home decor. They are beautiful and timeless, which is wonderful since they tend to be extremely durable as well. But, considering the change toward lighter hues and minimalist designs, your fireplace might feel like it's behind the times. So if you want to modernize your red brick fireplace and provide it a facelift, there are a few things you can do. Which are:
Gray paint wash, Jolie paint wash, or whitewash the brick
Overlap stucco on brick
Tile the entire fireplace or just the surround.
Install cultured stone veneer over the dated fireplace
Install a shiplap in your fireplace surround
Replace the existing mantle with a new one
What kind of paint do you use on a brick fireplace?
For painting your fireplace, you should choose indoor, high-quality acrylic latex, heat-resistant paint ( either flat, semigloss, or gloss ) that's rated to withstand temperatures generated by the fireplace ( generally about 200°F ).
You can also use milk paint as they don't really sit on the brick. They also have breathing capability which disables the brick from trapping moisture. The color choice totally depends on you. 
Be aware that this paint is only appropriate for brick fireplaces on the outside, not the inside. However, it's possible to paint the inside of a fireplace with a 1200°F high-temperature paint, or if you don't plan to light a fire but just want it as a decoration, you can also use latex paint.
Is painting an old brick fireplace a bad idea?
Your old brick fireplace can be painted if it detracts from the beauty of your home, to bring it in line with a more modern aesthetic. You can also paint an abandoned brick fireplace and decorate it however you want. But painting a functioning fireplace might be a bad idea since the painted brick can trap moisture. It is known that brick absorbs some moisture when wet.
Also, paints contain chemical elements. If any fire gets caught in the paint, it might create a fire hazard, causing immense loss to your home. As such, painting brick fireplaces poses some safety risks. We would either recommend building a mantle or change the room's color scheme to make it more complementary.
Final Verdict
Updating a 1970s stone fireplace is not a simple task. You need to perform a lot of tasks and consider several things. For example, budget, the look you want to give, and so on. 
Remember; upgrading an old fireplace will cost you a lot. Keeping the budget in mind and the proper plan behind it will be your key. And last, not least is safety. Maintain your local fire codes to avoid potential fire risks. Now, it's your turn to update your 1950s- 1980s stone fireplace to a modern fireplace safely following our steps. 
Do you have any questions you want to know? Leave a comment below to let us know.