When you wondering how to update a 1970s stone fireplace, you have so many wonderful options.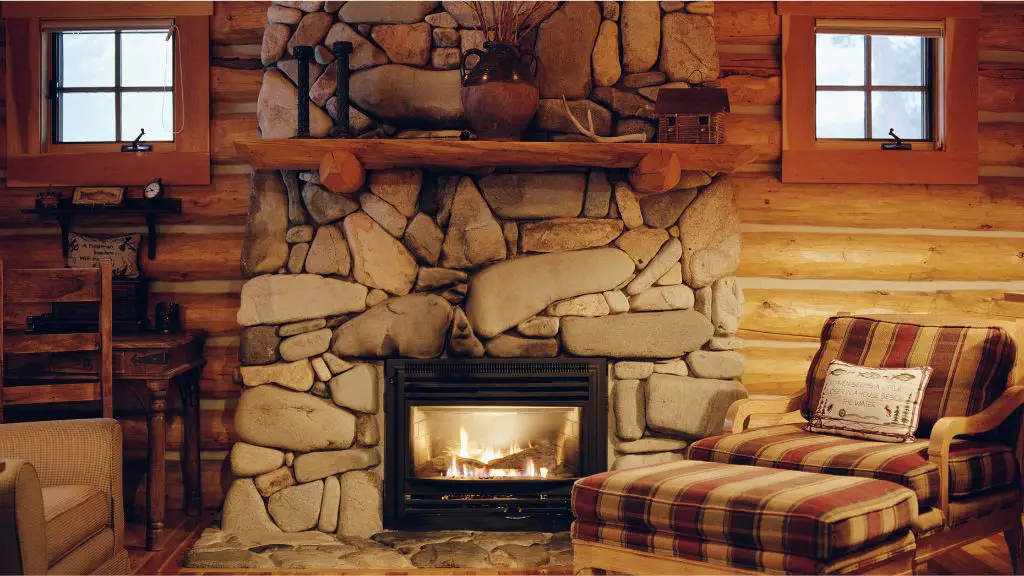 You can easily remodel your old fireplace just with white paint, adding concrete, having a wooden panel, and installing stone veneers or colorful tiles. 
Thus, you can easily turn your old fireplace into an eye-catching modern fireplace. Plus, following our simple methods, you can also update your stone fireplace from the 1950s to the 1980s and also the 1970s brick fireplace. So, let's start…
How To Update A 1970s Stone Fireplace [5 Easy Methods]
Here are 5 easy methods to upgrade your 1950s- 1980s stone fireplace:
Method 1: Give The Stone White Paint
Giving white paint to the old stone fireplace is a simple way to gain a uniform and crisp look.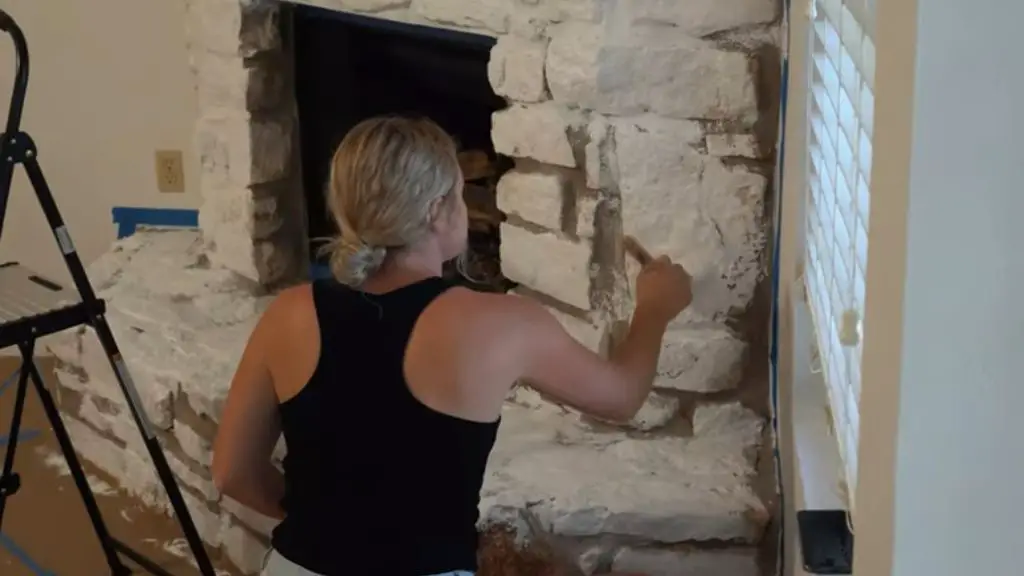 First clean all the stones and the gap between the stones. Then simply paint and upgrade the look.
Method 2: Add Concrete
Concrete is a cheap but efficient way to change the appearance of your old 1970's white stone fireplace.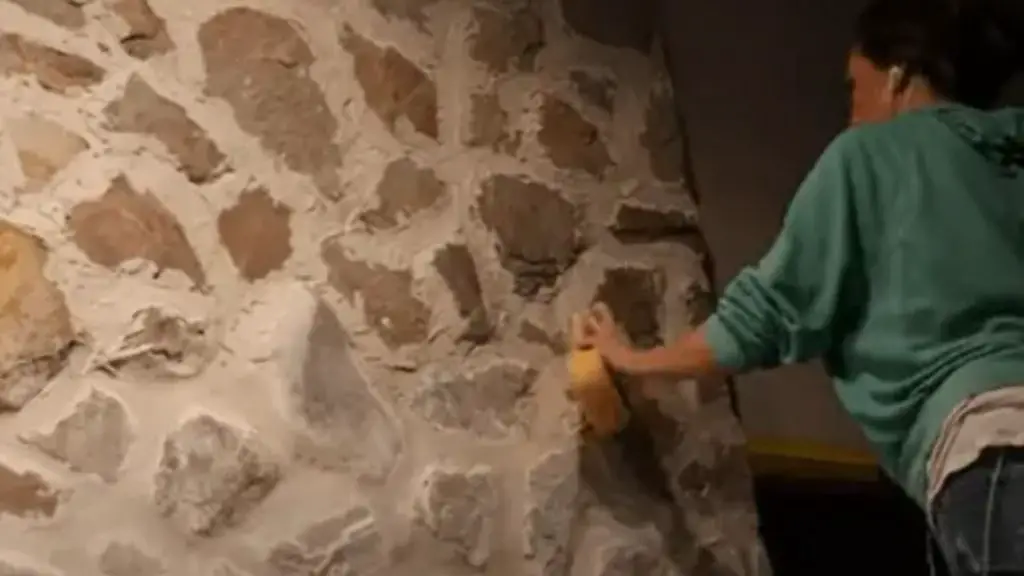 You can use white concrete with stone, fill the gap, and bring back the aesthetics of the firebox. There are several reasons behind choosing concrete, including:
Concrete is easier to apply

You can color the concrete to add life to the firebox

Always offer a crisp and beautiful finish
Method 3: Give A Rustic Look To Your Fireplace By Adding A Wooden Panel
Covering the surrounding of an old fireplace with a wooden panel is also an effective way to add a feel to the firebox. The best part of using wood paneling is- you can print different finishes on it to get the look you want.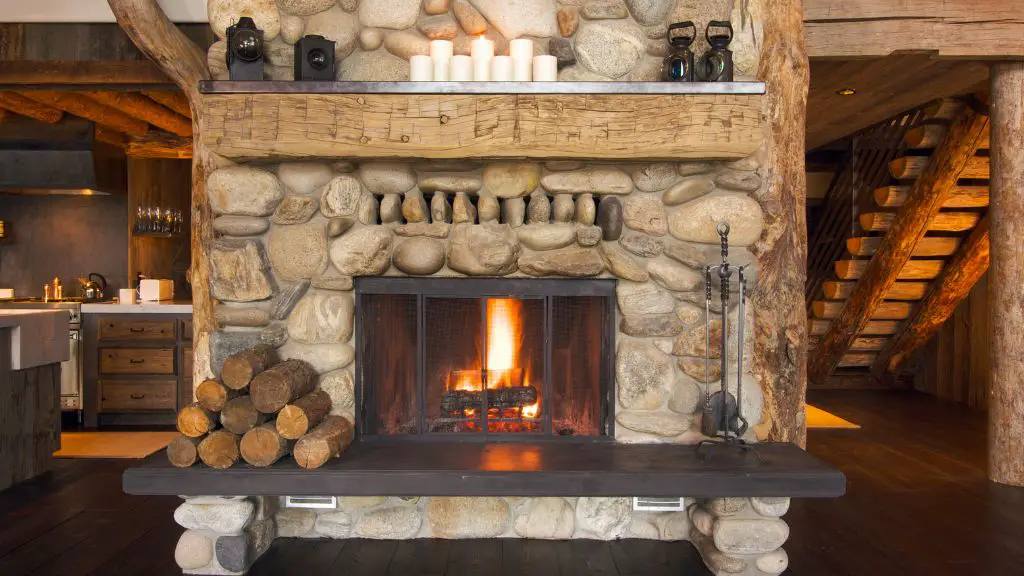 For example, a mahogany finish or crisp white finish is excellent to gain a rustic feel. 
Method 4: Try Out Stone Veneer
Stone veneers are a great way to update the traditional stone fireplace. But you have to get high-quality stone veneers.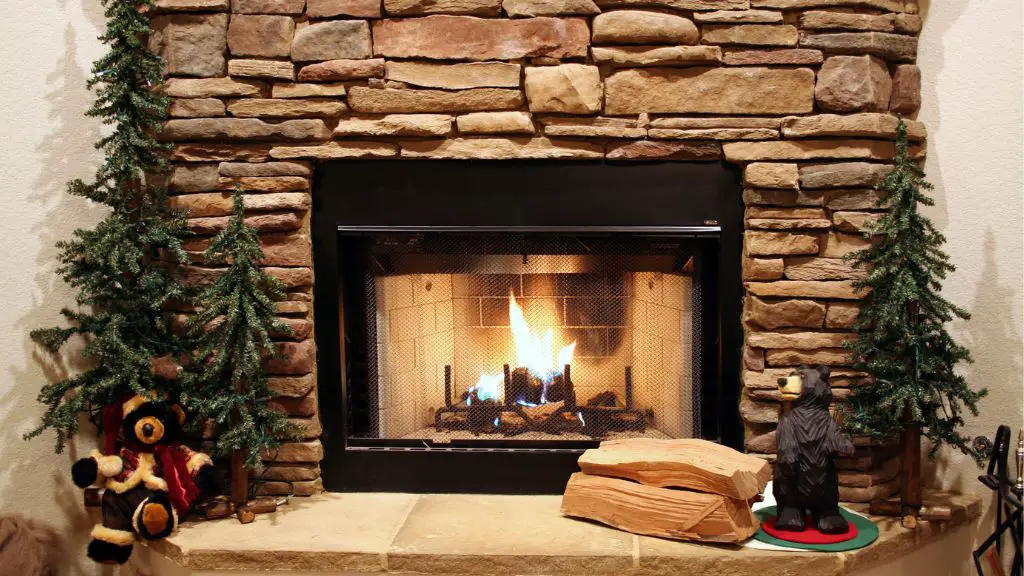 The good side of stone veneer is, unlike conventional stones, this type of stone is light and affordable as well. Therefore, stone veneers are effortless to install. 
Method 5: Give A Vivid Look To your Fireplace By Using Colorful Tiles
Don't forget the tile as a material for updating the old 1970s fireplace. You can find the best quality colorful tiles to bring back life to your conventional firebox.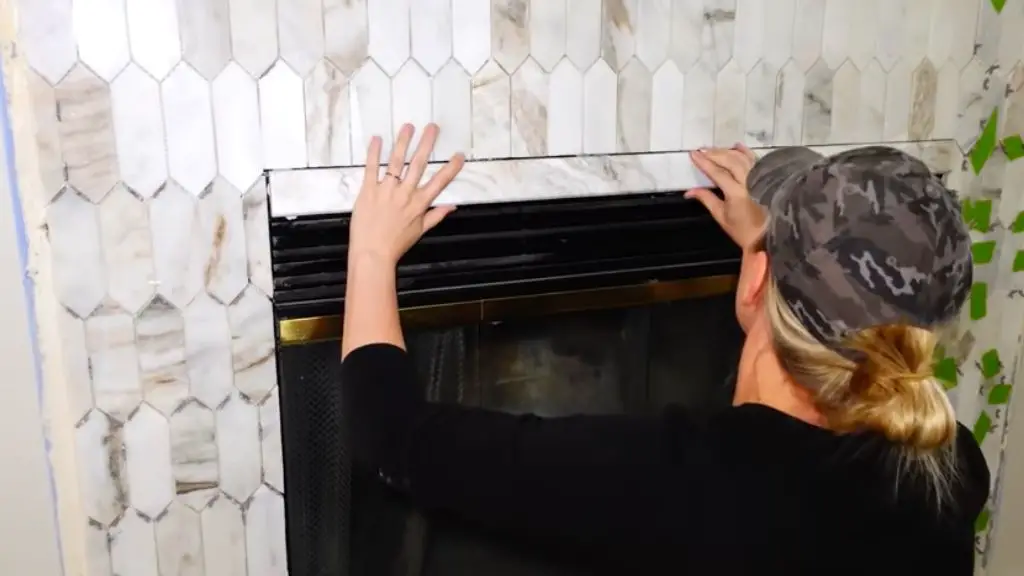 The key behind applying tiles is effortless cleaning. On top of that, it adds a fashion to the fireplace. 
How To Remove The Stone Fireplace Facade
Though it is a wonder for somebody to replace the stone fireplace facade, it is certainly possible to remove it. Also, it is necessary while you are placing to remodel your fireplace.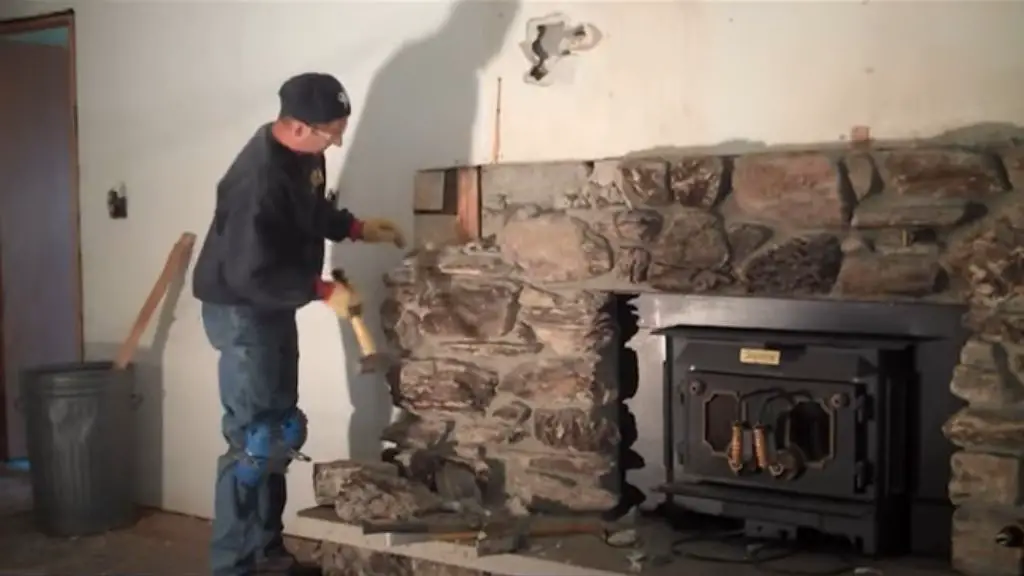 It will be a piece of good news that you can do the complete project by yourself, saving your money. Read through our below-suggested procedures in this fact:
First, collect the necessary tools to do this. One is a cold chisel, and the other one is a small sledgehammer.
Next, remove the installed mental if there are any. Don't get into hassle. Just give some taps with the 3 lb hammer and pry it with the chisel. Then set it aside.
Once you have done this, now locate the mortar joints that hold the stones in place. Then hit over it using the chisel and hammer. Start from the top right for this.
Then, move the chisel to the left and hit it again. When the mortar becomes loose on your stone fireplace facade, carefully remove the stone by prying it out.
In this way, move to the left stone and do the same to pry out the stone. Remove one stone at a time. Once you clear away all the rocks, trash them. 
70s Stone Fireplace Makeover/ DIY Stone Fireplace Makeover
Still, there are so many people who use the 1970s fireplace. Though it holds rustic glamour, one can renovate the look by bringing a modern vibe over to it.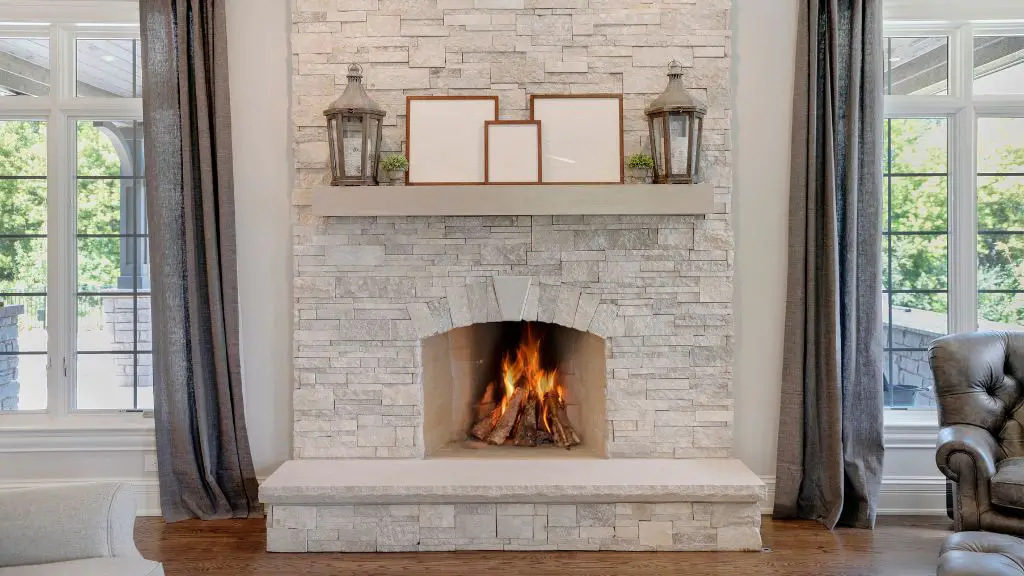 It will not only enhance the home decoration but also assist in making it look more up-to-date. If you are confused about how to remodel the fireplace, go through our below suggestions:
Adding concrete over the stone is the most popular. So, you can add concerts to your old fireplace's stone.
Or, if you want, add some stone veneer in the same place.
Painting can be another method to hide the old stone look. Decorate the complete stone fireplace by painting with a rich color. 
Telling or retiling can bring enough modern vibe to it. Use ceramic, porcelain, or glass tile on it.
If you want, you can use wooden paneling to bring some traditional look to it.
Another popular method is resurfacing the fireplace using a shiplap. 
You can install the wood mantel on the old fireplace wall. It will be able to provide you with a new look without removing the old stone or brick. 
Covering Stone Fireplace With Shiplap
One can change the old look of the fireplace or bring some modernized looking by adding a shiplap to it. Also, it will bring visual interest into your space.
This is now the most trending, and many fireplace users add shiplap around their fireplaces.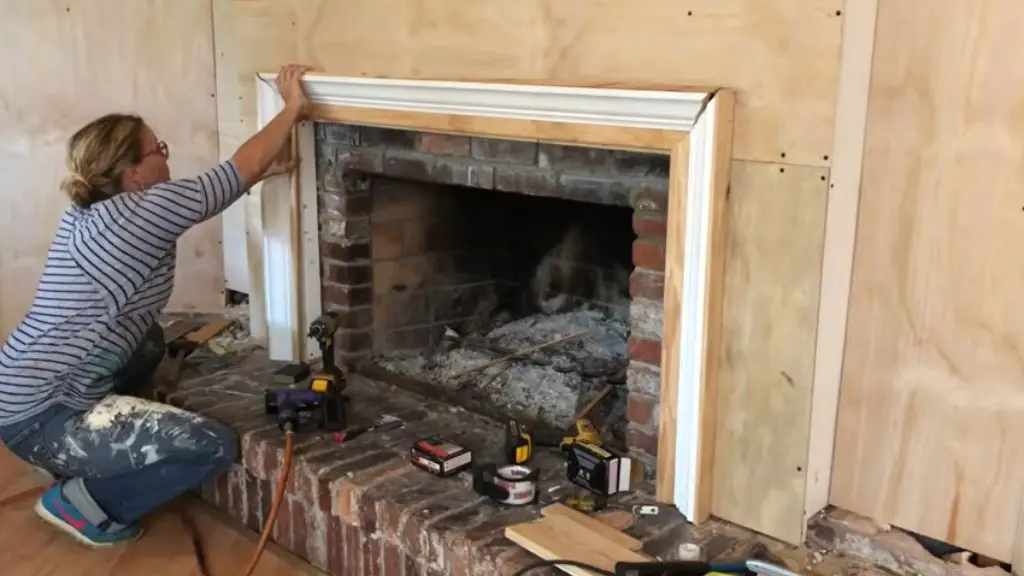 But for this, you must have to know the accurate installing methods and the correct safety codes for this. It will be better to hire professionals to perform this precisely.
In many cases, it seems one of the most labor-intensive parts to install the shiplap. 
How To Cover A Stone Fireplace With Drywall
A stone fireplace can't be able to provide you with the exact glamorous look that you ever desire. You can add to this some extra decoration to lessen the heavy and so-called feel of stone in your home.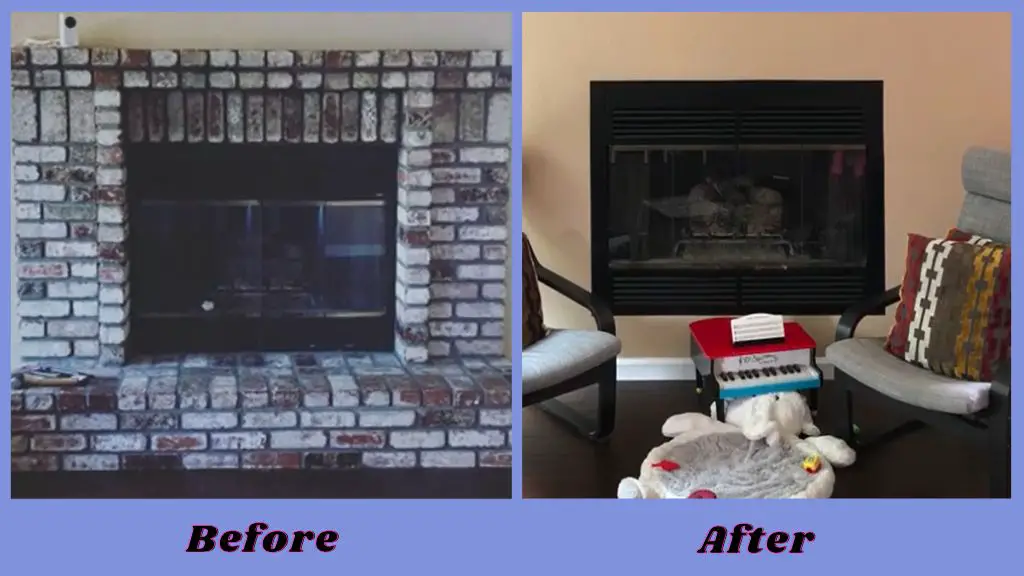 Here, drywall over the stone is now the most trending, and you can apply this theme to remodel your stone fireplace. Wondering how to do this? Here are some ideas:
i) Direct Bond Method
In this method, you just need some strong construction adhesive glue to attach the drywall to the brick. It will give you full coverage and attach the drywall directly. No screws or screw holes are needed.
ii) Screw-Mounted Method
If you desire to add other decorations or hang pictures beside the drywall, you can apply this method. Here, you will require screws to mount the drywall. Also, you have to make some screw holes to screw the drywall. 
iii) Dot And Dab Method
In this section, you will need PVA adhesive and have to apply a thin coat over the stone. Then, cover the entire surface with plasterboards.
When the adhesive dries, you need to apply the masonry adhesive mixture in the proper way. Lastly, place the drywall and gently press it against the brick. 
How To Decorate A Stone Fireplace Wall
Many people are bored with the old-looking stone fireplace in their homes. They want to bring some sensational look that will be enough to warm the overall looking of the entire home decoration.
Here, we will assist you by providing such kind of overwhelming decoration ideas to remodel your fireplace that you may apply to your home as well. 
First of all, you can paint your stone or brick fireplace. It will not only be budget-friendly but also a quicker method to decorate your fireplace. But must apply such high-quality paint that gives full coverage.
You may place a wood mantel on the brick wall instead of covering your stone fireplace wall. It will give an extraordinary look to your home decor. But make sure that it is attached to the wall securely and also it isn't too close to the fire.
Next, you can tile the fireplace using ceramic, stone, porcelain, or glass tiles to give it a modern look over it. 
Also, you may add a frame on the surface of the stone fireplace. Paint it in your desired color and then hang the TV or pictures on it.
One can place a large ornate mirror over the wall of the fireplace. But before, you can paint the wall with rich color. Or, you may place a bookshelf instead of the mirror over there.
Many people want to bring a natural inspiring look to the stone fireplace. In this case, you can place some plants on your mantel. You can add greeneries or flowers to bring extra color to it. 
How To Cover A Stone Fireplace
A fireplace is the core focal point of your living room. Thus it should be eye-catching and eye-shore to look at. The constant stone looking fails to provide such glamour to the fireplace.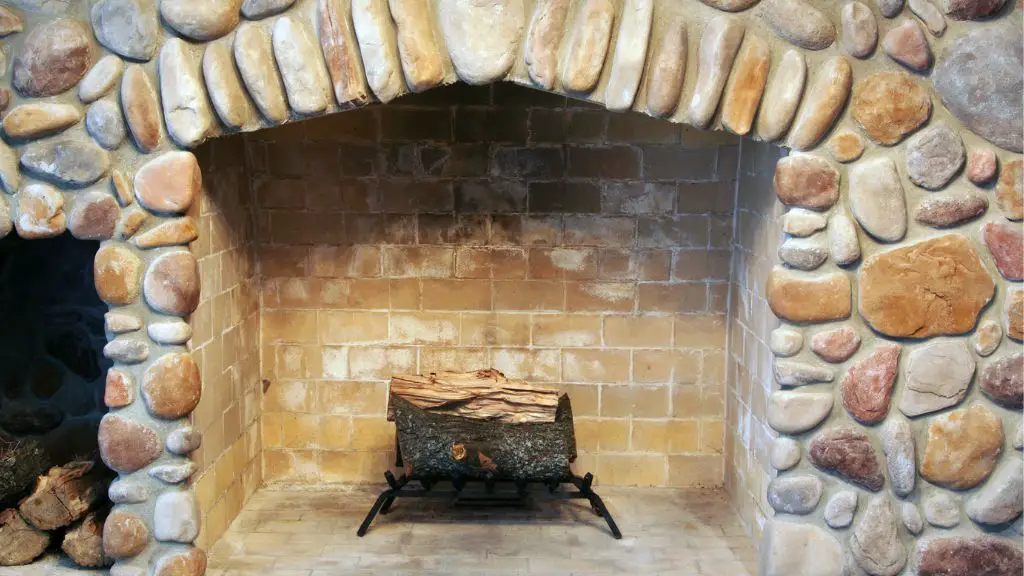 You can remodel your rustic stone fireplace look by bringing some extra decor into it. Here we have included some exclusive modern ideas for your convenience. You can go through any one of them:
A coat of paint can be quicker to do and also lessen the labor cost. You can use heat-resistant paint or some gloss-type paint to add a classy vibe to the fireplace.
Covering with concrete is another sustainable and affordable way to hide your fireplace.
 If you desire, you can add stone veneers to it. It will provide a great look to your living surface. 
Tiling is another popular way to hide your old-stone look. Make sure you are choosing the modern typing style.
You can install the mantel to update your fireplace. Many users go through this unique method to decorate their fireplaces. Then, you can place the greeneries or flower vases over the mantel to bring a natural vibe.
One can cover the stone fireplace using wood. You may make a frame on the fireplace surface or place your bookshelf there. 

Install a new gas or electric fireplace insert

.
How To Update A 1970s Brick Fireplace In 4 Steps
A brick fireplace is far away in style now. And a 70's brick firebox is just an eyesore and damages the entire home decor. You need to put in a lot of effort if you want to update it. Here's the workflow involved in upgrading an old 70's brick fireplace:
Step 1: Remove The Brick
Break down the bricks with a hammer and remove them first. 
Step 2: Add Two Wood Side Cabinets
Once you remove the brick, it's time to add wood side cabinets. Later, you can also add two shelves above the cabinet to add a distinct look to the fireplace. 
Step 3: Replace The Old Fireplace Insert
Now, it's time to get a new fireplace insert which can be an electric or gas insert. Then insert the new one changing the old one… 
Step 4: Add A Mantel & Set A TV Up to It
Have a decorative fireplace mantel and place it to improve the overall look of your fireplace and set a tv above it to enjoy the winter night. 
You can also watch the tutorial on how to update a stone fireplace.
FAQ:
How do you modernize an old stone fireplace?
You can modernize an old stone fireplace by stone painting, changing the tile, and putting together a new mantel and gas fireplace insert. 
Can you resurface a stone fireplace?
Yes, you can. In this case, try out slate, granite, marble, and quartz, to resurface your old fireplace. 
How much does it cost to reface a fireplace with stone?
On average, you need to spend around $2250 to reface a fireplace with stone.
How much does it cost to redo the fireplace?
The price range you need to cost to redo the fireplace is $390-$2000.
Final Verdict
Updating a 1970s stone fireplace is not a simple task. You need to perform a lot of tasks and consider several things. For example, budget, the look you want to give, and so on. 
Remember; upgrading an old fireplace will cost you a lot. Keeping the budget in mind and the proper plan behind it will be your key. And last, but not least is safety. Maintain your local fire codes to avoid potential fire risks. 
Now, it's your turn to update your 1950s- 1980s stone fireplace to a modern fireplace safely following our steps. 
Do you have any questions you want to know? Leave a comment below to let us know.