Throughout this comprehensive article, we are going to highlight all the facts on using non-Traeger pellets. Certainly, there have been so many queries about using non-Traeger brand pellets among Traeger users.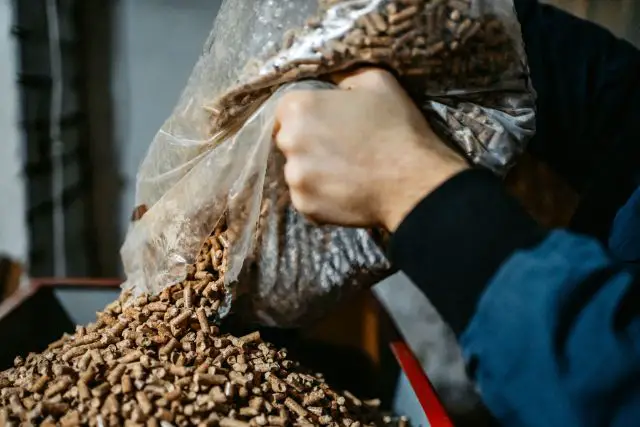 You can undoubtedly use pellets from any brand in your Traeger grill. But the pellets should be in shape and are in good form that is compatible with your Traeger unit. Don't worry.
We have provided an effective list of which types of wood pellets are best to use in a Traeger grill as alternates. Go through our complete article to learn all the needed facts on using non-Traeger pellets in Traeger. 
Using Non Traeger Pellets [Know A-Z]
First of all, let's know why users want to use other brand wood pellets in a Traeger from below:
Note: You can also read how can you use Weber pellets in a Traeger.
Why Do We Need To Use Other Brand Pellets In Traeger?
Traeger is the most well-known brand in the series of pellet grills. All the models are famous for giving the best flavor and smoke ring on the food.
If the fact is about the suitable fuels for grills, all of the Traeger manufacturers suggest using their own brand pellets. 
But still, many Traeger users like to use wood pellets from various famous brands to provide unmatched and unique wood-fired flavors.
There are a few reasons for using other brand pellets instead of the Traeger brand. That includes:
There are so many famous and well-known brands which cook food at hot burning temperature and produce minimum dust. This fact distinguishes Traeger pellets from its competition.
If you like to have wood blend flavor to your food, then other brand pellets will prove well here instead of Traeger.
Though both pellets are of high quality, you are finding some famous brand pellets that are enough affordable in cost. Trager pellets are comparatively expensive in this case. 
There are several well-known brands that are famous for featuring high-burn quality. However, Traeger is perfect enough in the measurement of the moisture content. Most of the pellets brands are quite efficient for lower moisture content and enable a warm, long-lasting burn. 
Also, if you are purchasing pellets from other brands, you are getting almost 40 pounds of wood in one bag. This will prove profitable enough and thus save money per pound. Apart from this, there is no worry about running out of wood pellets while cooking.
Traeger pellets contain a larger amount of filler wood and oil, which may not find any other pellets.
Can We Use Any Pellets In Traeger?
The topic is quite a common query to most Treger users. Trager is the most well-known grill company and has enough good reviews from users.
But to get the highest performance from the grill, there have several rules that are provided by the manufacturer.
The first suggestion is to use only their brand pellets for cooking. It will not only maintain the quality of the food but also keep the consistency of the grill at the right level.
From their recommendation, if you are using other brand pellets, you are surely voiding the warranty of the products. 
If you face any type of problem with the grill, you will be deprived of the servicing opportunity. Apart from this, if the alternate brand pellets are comparable to the recommended size, then all are ok.
In short, if you are 100% sure about the chosen brand pellets will work fine in your Traeger, then definitely you can switch the pellets.
Different Types of Wood Pellets
If you're a pellet grill user from any brand, the most advisable thing as the fuel is pellets. Basically, the grill is manufactured in such a way that only pellets are suitable as fuel.
There is a wide variety of wood pellets to choose from. The primary difference in these wood pellets starts from wood from where the pellets are being processed. 
Let's have a short glimpse of the different types of wood pellets below:
Alder: It is the best choice if you are cooking chicken or even baking also. The wood has the capacity to produce a great amount of smoke but not overwhelm the food taste.
Apple: Best for pork, lamb, seafood, pork, and poultry. It provides a fruity flavor to the food
Mesquite: This is superb for giving the barbeque flavor to the food.
Maple: Good for poultry, vegetable, and pork. It enhances food flavor by giving light smoke with a sweet vibe.
Oak: The most renowned wood for smoking meats, fish, and vegetables.
Pecan: To give an excellent flavor to beef, pork, or poultry, this wood can be a good choice.
Hickory: The most famous pellets which give a strong smoky flavor to food.  
Best Alternative Pellets Brands To Use In Traeger
Now, if you desire to switch your current Treger pellets, this section on Traeger pellet alternatives is going to be much helpful for you.
Here we are providing a complete list of pellets brands' name and their features that can be used as an alternative. 
Pit Boss Oak Blend Hardwood Pellets: It is one of the best wood pellets, which is manufactured from 100% natural wood ingredients. 
Traeger Grills Hickory 100% All-Natural Hardwood Pellets: Hickory pellets are one of the most favorable fuels for pellets grill users. This pellet brand is popular for better burn qualities, producing massive smoke, and many more.
Lumber Jack Smoking BBQ Grilling Wood Smoker Pellets: If you want to bring exceptional flavor to the food while switching the Traeger pellets, this pellet brand will be the best choice for you. Here 40% of pellets are made up of apple, while the rest of the amount is made from red oak.
Camp Chef Competition Blend BBQ Pellets: This is also one of the premium wood pellets having all the premium qualities that can be used as an alternative to Traeger pellets. 
Louisiana Grills Pennsylvania Blend Pellets: These good quality pellets are enough to bring a strong, sweet-smoke flavor to food. The form and size will perfectly match Traeger Grill's recommendation.
Is It Ok To Use Pit Boss Pellets In A Traeger?
Many of us have a common query can I use pit boss pellets in a Traeger grill? The answer is yes. Obviously, you can use pit boss pellets and even other wood pellets in your Traeger grill.
Basically, many users want to use this for powering up the  Traeger wood-fired grills.
Even using pit boss pellets will not void the warranty. Also, as the shape and form are comparatively the same as the Traeger, so you don't have to worry about hurting the grill. Most importantly, it is significantly cheaper than Traeger.
How Long Do Traeger Pellets Last
The answer completely depends on the temperature that you set for cooking and grilling. As the manufacturers recommend, the grill needs 1 to 3 pounds of pellets per hour to burn. If you are using a pellet bag of 20 pounds, then it will last up to 6 to 20 hours. 
Does Using Non-Traeger Pellets Void Warranty
According to the warranty statement, if you are using non-other pellets brands on Traeger, it will surely void the warranty of the product.
Because, you are using low-quality fuel on the grill that is not compatible with the unit, and for that, the grill may start to malfunction. It will definitely affect the warrant coverage as well.
What Happens When A Pellet Grill Runs Out Of Pellets?
This is the common scenario while cooking on the grill. To maintain a balanced temperature on the grill, it's a must to fill your Traeger hopper with the proper amount of pellets.
If it runs out of pellets, it drops down the temperature level as the auger is feeding through the empty hopper and even shut off the grill automatically to prevent damage to your grill.
Are Pellet Grills Bad For Your Health?
The answer to this query depends on how you are grilling on the unit. If you cook meat at a very high temperature, it creates potentially carcinogenic substances, which are known as PAHs and HCAs. Both heterocyclic amines increase the chances of cancer.
 But you can cook in an even heat, it will automatically lower the chemical levels. In short, grilling in regular heat and charring a pellet grill is not a single bit harmful to you.
FAQ:
Do Traeger pellets go bad?
Yes, pellets can be easily defective by improper maintenance and poor handling. If these are in touch with moisture for longer times, it will automatically go bad.
Can I use a pellet grill in the rain?
No, you can't use a pellet grill in the rain. It may wet the pellets and insert moisture into them. Thus, by containing moisture, the pellets may get defective.
Does Traeger Grills use a lot of electricity?
To run the pellet grill, it needs a fluent electricity supply. Basically, to heat the rod, it needs up to 30 watts. When the unit starts, the other component needs 30 watts.
Wrapping Thoughts
Hopefully, now you have a better idea of whether you can other brands' pellets on your Traeger or not. There have so many reasons to use other brands and wood blends in your pellet grill, including pricing, wood flavor, consistency, and wood blend flavor. 
Still, if you have any questions regarding this article, don't hesitate to let us know through comments. We will reply to your ASAP.