A water heater left open in your house might decrease the beauty of your property's appearance. Here a water heater enclosure is a great idea to hide your heater and keep your house looking stunning. Now, you may have decided to install a water heater cover.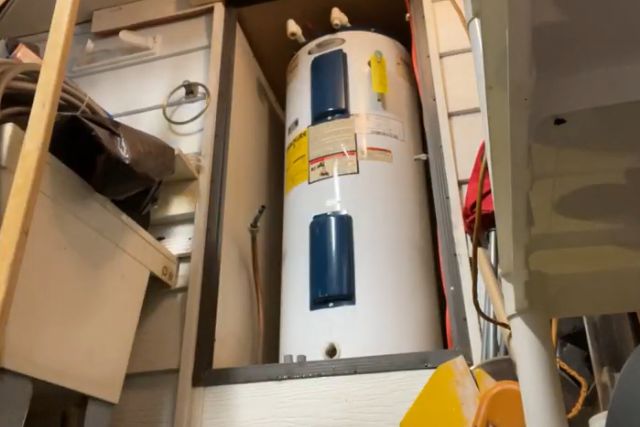 But remember, before installing a water heater cover, you should know of various types of water heater enclosures. Knowing all about the heater covers will help you to pick the right and best heater enclosure. Okay? So, learn here more…
What Is a Water Heater Enclosure
A water heater is generally placed in the basement of a house. The basement can be used for other purposes also. So leaving the water heater open can lessen the view of the room as well as question the protection of the heater.
In that case, a water heater enclosure is used to hide the water heater from the outside.
Here, to help you with the right option to choose from various types of water heater enclosures, we are going to discuss:
Water Heater Enclosure
Water Heater Types 
Types of Water Heater Enclosures
How to build both Indoor and Outdoor Water Heater Enclosure 
We believe, if you go through the whole article, you will learn enough to judge this whole prospect of water heater enclosure by yourself.
Types of Water Heaters
A water heater isn't something you buy often. So it is important for you to know about various types of them to choose the best option according to your demand. The types are-
Electric Water Heater
Conventional Water Heater
Storage Tank Water Heater
Tankless Water Heater
Outdoor Water Heater
Outdoor Tankless Water Heater
Water Heater Enclosure Types
Various types of water heaters require various types of water heater enclosures too. There are two categories-
Water Heater Enclosure Outdoor
Water Heater Enclosure Indoor
Let's take a detailed tour.
Water Heater Enclosure Outdoor
The outdoor water heater can be of two types-
Outdoor Water Heater Enclosure
Many houses have a water heater outside the room. To protect this from various outside effects, you need an outdoor water heater enclosure shed.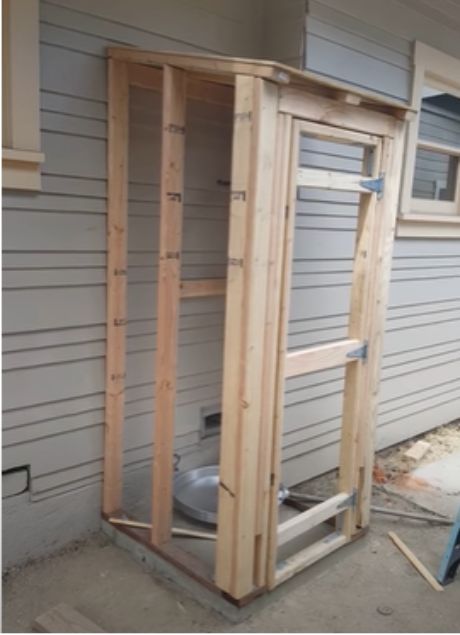 Outdoor Tankless Water Heater Enclosure
An outdoor tankless water heater provides various benefits. It is a compact-sized heater which gives you more space to use. 
It has a built-in outdoor water heater closet made from aluminum that is designed to withstand weather changes, high speedy wind, snowfall, etc.
Water Heater Enclosure Indoor
A water heater left open in your house might decrease the beauty of your property's appearance.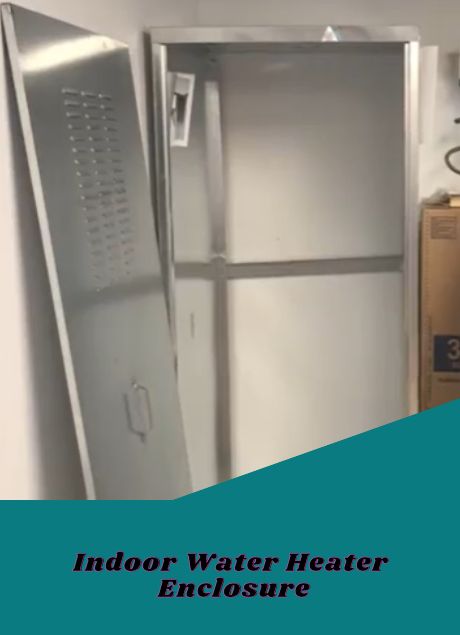 So to hide a water heater in a kitchen or any other room or to style the appearance you have two options for water heater enclosure ideas.
 Water Heater Cover
 Complete Water Heater Enclosure 
1. Water Heater Cover
You can use curtains or screens to cover your water heater. These are the cheapest and simplest enclosures.
2. Complete The Enclosure
You have two options to choose from as a complete enclosure for your water heater. These are:
Cabinets
Closets
Cabinets
These are the best enclosures to use in a basement or kitchen. They are available in various forms such as 
DIY water heater enclosure
Vinyl water heater enclosure
Wooden water heater enclosure
Closets
This is the best option to completely hide your indoor water heater. The water heater closet's doors are always painted to match the rest of the room.
So having your water heater inside the closet doesn't affect the overall look at all. 
Water Heater Enclosure Building and Installation
In this section, you are going to learn about the building and installation of both outdoor and indoor water heater enclosures.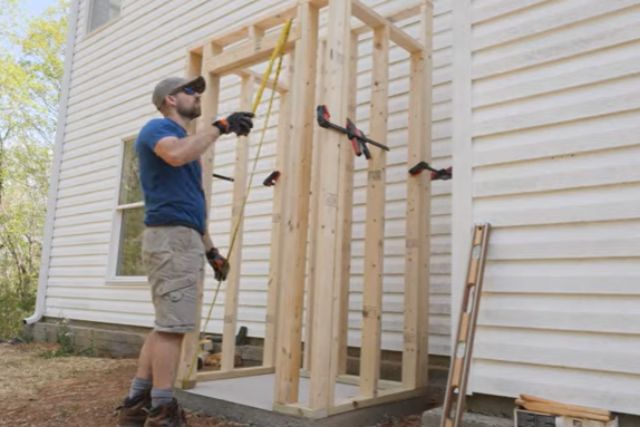 How to Make an Outdoor Water Heater Enclosure
To make the water heater enclosure outside the house first you need to build the foundation. It goes by the following steps:
Paint the ground to mark the parameter
Dig the marked-up ground by 4" deep
Place landscape fabric over the ground
Pour some gravel and rebar to make the concrete reinforced
Build a 3 feet wooden frame around the hole
Smooth the concrete surface
Now, it's time to build the shed. Let's have a look at the process.
Step 1: Cut two steel boards to connect the wall framing and concrete slab.
Step 2: Place the backplate onto the slab against the house and use masonry screws to tighten it.
Step 3: Place the side plate onto the slub with the black plate's outer edge. 
Step 4: Cut the top and bottom plates so that the top plate and two bottom plates remain 6 feet and 1 foot long respectively.
Step 5: Cut 2 jack studs and 4 wall studs. Place the jack studs on the door frame's side.
Step 6: Lay one of the frames on the ground and line up the top plate edge with the outer stud, use two nails to the studs through the top plate. Repeat this on the other side.
Step 7: Use the same method to position the top and bottom plates too.
Step 8: Install the back wall frame.
Step 9: Make up the door frame.
Step 10: Create roof rafters.
Step 11: Nail a stand board to the frame to cover the roof and walls.
Step 12: Apply finishing to the front and side walls with wood or siding.
Step 13: Install the water heater door.
How To Make an Indoor Water Heater Enclosure
Building an indoor water heater enclosure is very simple. You just need to go through the simple steps written below:
Build the Frame after enough measurement such as the Square shaped frame for a square water heater.
Complete the side frames.
Join the outer layer with cardboard using enough measurement.
Add the enclosure door.
Attach needed trims to keep the frame stable.
Attach anything extra if you want to add to the enclosure.
Keep in mind that it's just a DIY water heater building process. If you want to install any readymade enclosures from the market, follow the user manual, provided with it, to install the enclosure properly.
FAQ:
Can a water heater touch the wall?
A water heater might be placed against a wall, but if it causes restricting airflow then you shouldn't let the heater touch the wall. You have to keep in mind, a water heater requires a certain area of clearance, that is about 12" to 18" around it to function properly and safely.
Is it ok to enclose a water heater?
You can enclose your water heater or not, it depends on your wish. Not enclosing it may make your room look messy. So, it's better to enclose the heater by building a wall and then decorating it by matching it with other appliances.
Do water heaters need ventilation?
Water heaters burn natural gas or Liquid Propane(LP) which requires venting systems, the whole process is called combustion. Combustion creates more heat, exhaust gases, and moisture. If there are no ventilation systems in the water heater then the byproducts will remain in the house and may pollute the environment.
Can a power vent be added to a water heater?
A power vent is a system that emits harmful combustion gases from the house. But you shouldn't add it to a water heater that isn't manufactured originally with a power vent system because it is made to function differently.
How close can things be to a water heater?
The area around the water heater needs to be cleared as it may create some safety issues by placing things around the water heater. Water heaters run on electricity or fuel, gas, propane, etc which are extremely flammable. So it's too important to ensure that your water heater has enough space (about 18 inches) around it for proper ventilation. 
Do you need an outdoor water heater enclosure shed?
The outdoor water heaters are usually made with a built-in aluminum enclosure to withstand outside weather challenges such as rain, speedy wind, snowfall, etc. So it's not a must to use an enclosure shed. Still, if you want to ensure more protection for your water heater as well as decorate it according to your home design, you can use an outdoor water heater enclosure shed.
What is the size of your water heater?
If you need to determine what sized water heater you need, then you should first calculate the amount of hot water needed for your everyday life. Again, if you want to know the average calculation, you can follow the chart below :
For 1-2 people: 30-40 gallons
For 2-3 people: 40-50 gallons 
For 3-4 people: 50-60 gallons 
For 5+ people: 60-80 gallons
Can you paint near a water heater?
The surrounding around a water heater should be kept clean and out of any flammable elements. In the case of painting around it, you should use paints that are inflammable, or else the fume made by the heater might create a fire hazard.
How do you get hot water at end of the house?
When you are finished using the hot water, the remaining water stays in the pipe and gradually cools down. So, if you want to use hot water again, you need to wait for this cold water to pour out first. It wastes a significant amount of time and water. To solve this problem and get hot water instantly, you can use a kit called a "Hot water recirculation pump". It sends the cooled-down hot water back to the faucet. So that whenever you want hot water, you instantly get that.
Where should you place your hot water heater?
You should place your hot water heater against any external wall of your house. The garage or basement could be the perfect place for that. But wherever you keep it, always make sure to provide the required clearance area to your heater which is about 12" to 18" around your water heater. 
How do you hide your water heater?
A water heater might make your home a little bit messy and ruin the decoration prospect of your house. To avoid that, you can easily hide your heater using water heater enclosures like covers, screens, cabinets, closets, or heater blanket
Does a hot water heater have to be perfectly level?
Yes, a hot water heater requires to have perfectly leveled ground. This will enable the heater to work perfectly and avoid any unnecessary strain on the joints.
Can a water heater be installed outside?
Yes, you can install your water heater outside. But not every type of water heater. Only certain models have the capability of surviving against outside weather conditions like snowfall, rain, speedy wind, etc. You can also place electric and gas tank water heaters outside by providing enough shelter to them, yet it is not recommended.
Summary
Throughout this article, we aimed to walk you through how to build a water heater enclosure and choose one that's right for your home. Hopefully, now you have a complete idea of building your water heater cover. But, when this task is not for you, then you can buy a heater cover from the market.
Or, you can simply get one of the best water heater blankets that are super cheap to buy than building a cover. In exchange, the heater blanket will not only hide your heater but also save you $200 annually.
How? A quality water heater blanket doesn't allow the hater to lose its heat with its extra insulation layer. And thus, it will reduce your energy use and so your energy bill. It's simple!