The best thing about having a high-quality master-built electric smoker is that you can convert it into charcoal anytime.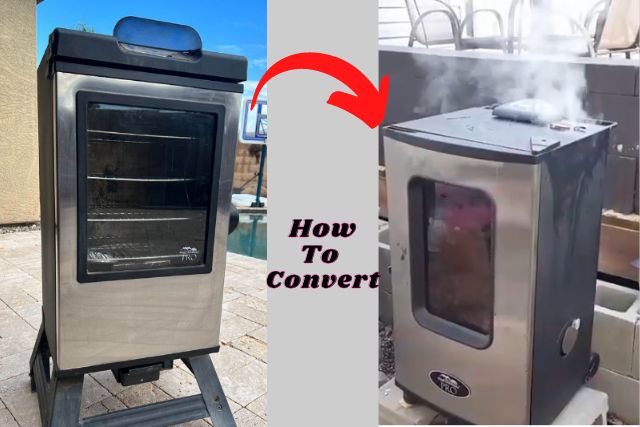 So, today, in this article, we will instruct you on how to convert Masterbuilt electric smoker to charcoal. Okay? Let's start…
Why Should I Convert My Masterbuilt Electric Smoker To Charcoal?
Many people prefer converting their master-built electric smoker to charcoal because of many reasons. The main reason is that electric smokers do not allow high heat. The electric smoker is allowed to heat up to 250 degrees.
Plus, people usually decide to convert their master-built pellet smoker into charcoal when it does not work properly. Other reasons might be low heat and slow cooking. 
If you love smoked food, the electric smoker conversation is a great idea. There are several benefits of using a charcoal smoker.
Let's take a look at them.
Benefits of Converting Electric Smoker to Charcoal
Here are a few benefits of using a charcoal smoker…
Charcoal smokers are not combustible.
You need less electricity for charcoal smokers compared to the electric process.
You can move and change the heat source around.
Cooking in a charcoal smoker will provide a better smoky flavor to the food.
The food cooks faster in a charcoal smoker.
You can control the heat and ventilation easily by adding or removing coals.
Charcoal smokers are able to deep cook meat at high temperatures.
These are some amazing benefits that might convince you to convert your master-built electric smoker into charcoal even if it works totally fine!
Convert Masterbuilt Electric Smoker To Charcoal [7 Simple Steps]
The Masterbuilt smoker conversion process is very easy. All you need to do is to get some tools and put in some creative effort to convert the smoker smoothly. 
Tools and Appliances to Convert the Masterbuilt Smoker
These are the tools that you need before the electric smoker conversion.
Screwdriver
Screws
Steel or metal plate
Steel rings
Ball joint valve
Steel basket or tray
The tools that you need for the electric smoker conversion process are available everywhere. Just so you know, electric smoker conversion kits are available in the market as well! 
You will find all kinds of suitable tools in this kit. Now that you have all the necessary tools get started with the steps-
Step 1: Remove all the Elements
Remove all kinds of guts and elements like the heat deflator, rack, and wood chips dispenser from the smoker. You cannot modify the smoker if the elements are attached.
Step 2: Seal Up all the Openings
Check all the holes and openings very carefully. You have to seal the holes using metal plates. If you find tiny holes, you can cover them up using tin foil as well.
Step 3: Put a Valve on the Exhaust.
Use a ball joint valve for the exhaust for better control even if the cap is opened or closed. Make sure the valve is tight enough.
Step 4: Place a Sliding Door for Ventilation
Create a sliding door vent using a metal plate. Make sure it is airtight. Use screws or ball joint valves if needed. Using screws to seal the holes will help with better airflow and air intake.
Step 5: Clog the Valve Areas
Clog the space between the valves using steel rings. Use screwdrivers and put screws in the smaller holes if you think it is necessary.
Step 6: Cover the Holes at the Bottom
 Check the bottom plate and seal up all the holes using steel plates and screws. You can also create a big plate cover for the bottom if there are several holes.
Step 7: Prepare a Net Basket
Get a steel net basket and make some holes for putting the valves through it. The steel netting is good for proper ventilation and that is where you need to put the coal. 
After performing these 7 simple steps, you are ready to heat your coal and prepare your food! Make sure to use a good thermometer to check the temperature of the food now and then. The conversion process is very easy if you put in a little effort.
If your master-built electric smoker stops working, don't even think of throwing it away. Just convert it into a charcoal smoker and see how it works even better!
Here, watching the video will be helpful for you in your conversion process.
FAQ:
What is better smoker charcoal or electrical?
Both electric and charcoal smokers are great for smoking food. If you want a better smoky flavor, in that case, a charcoal smoker would be better for you.
Can I spray out an electric smoker?
Yes, you can spray out an electric smoker but do not use harsh chemicals. It would be wise to clean your electric smoker using water and vinegar solution. Wipe it off after spraying and do not leave the liquid on for too long.
Can I use charcoal in an offset smoker?
Yes, you can use charcoal in an offset smoker if you have modified or converted it into a charcoal smoker. 
How do I add more coals to my smoker?
You can easily remove and add coals to your charcoal tray or basket. Remove the ashes and burnt-out coals and replace them with new ones.
How often do I add coals to a smoker?
You should keep checking the charcoal smoker when you are cooking food in it. You might need to change and add coals to the smoker every two hours.
Does opening the vents on a smoker make it hotter?
Yes, opening the vents on a smoker will make it hotter because of more air intake. 
Do electric smokers use a lot of electricity?
Electric smokers do not use a lot of electricity in fact, they control the demand for fuel and electricity. Electric smokers need around 800 watts of electricity per hour.
How do I turn my electric grill into a smoker?
You can turn your electric grill into a smoker by putting a smoke box inside the grill. Set the temperature correctly knowing from your masterbuilt electric smoker instructions and preheat the grill before cooking in the smoker box.
Can I get a smoke ring with my electric smoker?
You can get a smoke ring with your electric smoker after putting some charcoal and wood chips together in the pot or tray.
Final Thoughts
Many of you might think that converting your masterbuilt electric smoker into charcoal is a matter of hassle.
Well, we can assure you that it is not as difficult as you think. Once you have all the tools and follow the 7 simple steps for the masterbuilt electric conversion, you are good to go!
We hope this article could help you to convert your electric smoker into charcoal perfectly. So, why late? Convert your electric smoker into charcoal, learn how to use a charcoal smoker, and enjoy juicy smoky foods.
If still you have anything to know, let us know in the comment box.